Nebraska's Central Platte Natural Resource District (CPNRD) is working with Precision Conservation Management (PCM) to help growers for the local Frito-Lay plant assess and integrate conservation practices that can improve the environment as well as their bottom lines. In this interview, Irrigation Leader speaks with CPNRD General Manager Lyndon Vogt and PCM Conservation Specialist Darren Cudaback about the new program, which can help farmers make informed decisions about conservation practices. 
[siteorigin_widget class="SiteOrigin_Widget_Headline_Widget"][/siteorigin_widget]
Irrigation Leader: Please tell us about your backgrounds and how you came to be in your current positions. 
Lyndon Vogt: I am the general manager of the CPNRD. I've been at the CPNRD for 9 years. Before I took this position, I was the general manager for the Upper Niobrara White Natural Resources District in Chadron for 12 years. I started out as a water resources manager at Lower Niobrara Natural Resources District and worked my way up to general manager there. I have worked with natural resources districts for 25 years. 
Darren Cudaback: I am a conservation specialist with PCM. I have also been in the farm industry for 25 years. For most of that time, I have helped producers with marketing. I worked for Cargill for 10 years, B4 Grain for 4 years, and The Andersons for 11 years. 
Irrigation Leader: Please introduce the CPNRD. 
Lyndon Vogt: The CPNRD lies along the Platte River in the central part of Nebraska. We are a narrow, long district that runs from Gothenburg to just south of Columbus. A little over 1 million acres of our district are irrigated, so we are a heavily agricultural district. Apart from a small number of acres irrigated with surface water from the Platte River drainage, the majority of the acres are irrigated from the Ogallala aquifer, which underlies the western two-thirds of our district. In the eastern third of our district, we have the glacial till of the High Plains aquifer, a productive aquifer with a high recharge rate. These water resources have helped irrigated agriculture become Nebraska's number 1 industry. 
Irrigation Leader: Please tell us about the CPNRD's partnership with the PCM program. 
Darren Cudaback: PCM is the conservation program of the Illinois Corn Growers Association and the Illinois Soybean Association. It was initiated through funding from the Natural Resources Conservation Service's Regional Conservation Partnership Program. We are a nonprofit organization that helps producers look at adopting conservation practices that can help them be better land stewards and improve their bottom lines. One thing we do is help growers identify pertinent grant programs that can offset the cost of doing things like planting cover crops, introducing new tillage practices, and reducing fertilizer use. 
Irrigation Leader: Why did the CPNRD decide to get involved with the PCM program? 
Lyndon Vogt: PCM contacted us about partnering with it. Its conservation specialists were interested in working with some of the producers in the western part of our district that grow for Frito-Lay, which has a plant in our area. We had been exploring how to promote and expand sustainable farming practices, such as planting cover crops, improving soil health, and reducing fertilizer applications. We looked at what PCM was doing with producers in Illinois to promote the same practices we were promoting. Partnering with PCM became the natural next step toward achieving our goals. 
Darren Cudaback: Through the PCM agreement, producers are informed about how their practices can affect their bottom line. They show us how they currently operate, and we help them make important changes to their operations for the next year. We might show them how they can reduce their water use or get carbon credits for certain practices. This is a farmer-first program, and it always will be. We'll never push a farmer into doing anything they aren't comfortable with. We have an open discussion about possible changes on an annual basis. 
Irrigation Leader: Why is healthy soil so important? 
Lyndon Vogt: Healthy soil has more organic matter and therefore more water holding capacity, which means less leaching and nutrient loss during rainfall or irrigation events, which is better for producers and the environment. Healthy soils sequester carbon and produce healthier crops that deliver more bushels per acre. As you store more carbon in your soil, you're storing more organic matter in your soil. To produce carbon in your soil, you must have a growing plant with healthy root growth. Right now, if you're growing corn in our district, you have approximately 5 months with a healthy growing root system in the soil. But once we get to the end of the growing season, planting a cover crop adds another 3–5 months of growing that root system, which not only stores carbon but increases soil health. This program shares the cost of planting those cover crops. 
Irrigation Leader: Would you talk about the results this partnership has produced and whether you have any plans to expand it in the future? 
Darren Cudaback: This program is just getting started. We have 11 producers currently participating in the Gothenburg area, but that number will increase dramatically in the next couple of months. Producers are interested in the fact that this program reduces farmers' risk while maintaining their economic viability. We just announced a program called the Nebraska Irrigation Equipment Incentive that is available to producers participating with PCM. 
Although this program is only open to Frito-Lay growers in the Gothenburg area, we can help any Nebraska grower with things like data management, gaining carbon credits, or comparing their sustainability practices with those of other growers in their area. 
Irrigation Leader: Is there anything you would like to add? 
Darren Cudaback: We want to demonstrate that environmental goals can be achieved without regulation. We would rather work with producers proactively to achieve environmental goals. 
Lyndon Vogt: We know that regulation is expensive, so anytime we can offer a program to producers that might keep them from future regulation, we will. As far as we're concerned, this is a win for us and a win for the producers in our district. 
Lyndon Vogt is the general manager of the Central Platte Natural Resources District. He can be contacted at vogt@cpnrd.org.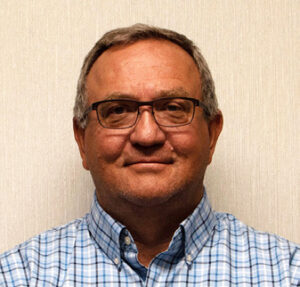 Darren Cudaback is a conservation specialist with Precision Conservation Management. He can be contacted at dcudaback@precisionconservation.org.