Philip Ball's Situational Awareness Institute (SAI) provides training for private companies and public agencies about security, active killer prevention and response, and crisis communications. Now, SAI is releasing a new online course that presents the best of its information and education in brief modules that include text, pictures, and video.
In this interview, Philip Ball speaks with Irrigation Leader Managing Editor Joshua Dill about how water districts can keep both employees and customers safe in an ever-threatening world.
[siteorigin_widget class="SiteOrigin_Widget_Headline_Widget"][/siteorigin_widget]
Joshua Dill: Please tell us about yourself and your organization.
Philip Ball: I started as a badge-carrying police officer in 1993. Prior to that, I was the governor-appointed emergency management coordinator for the State of Pennsylvania. I worked with the heads of safety and of the police and fire departments in emergency situations to coordinate efforts to save lives. Our goals were safety, incident stabilization, and property conservation. That laid the groundwork for my law enforcement career. I worked as a police officer in Pennsylvania, Maryland, and Georgia, then went down to Florida and worked for about 5 years as a police training specialist in the Broward County area. I then came back to Georgia, which is where I am based now. Working with so many different departments has given me access to tremendous training and certification opportunities in fields such as active killer countermeasures, crisis intervention, and firearms.
Because I had private parties and corporations ask me to teach them the same things I was teaching government agents and police officers, I came to see that there was a need for a private company to fill this niche, and my wife and I created SAI. We train people to be situationally aware of threats, including active killers, cyberattacks, and physical violence, and to respond to and prevent these threats. If, despite all their precautionary measures, they find themselves in such a situation, our training helps them reduce the opportunity for harm and increase their chances of survival. Both personal survivability and your company's liability are important.
Joshua Dill: Who are SAI's employees?
Philip Ball: Several gentlemen throughout the nation work with SAI, including police officers and retired military officers. I also have consultants who are allowed to deliver my material. When a safety event happens, we discuss its causes and how we can protect our clients from similar events. We offer a wide range of services to corporations and private entities based on what we have learned from years of studying events across the nation.
I have an army psychologist who is a retired colonel on staff. He is an expert in active killers and workplace violence. He and I have consulted for agencies and city governments on high-risk employee situations. If an agency has an employee displaying worrisome behaviors, it can contact us, and we will provide an analysis of the possible risk and the measures it can take to reduce the possibility of the situation escalating into a violent confrontation.
My wife, Tasha, is now working with SAI full time to help with content writing and research. If you have been enjoying our recent blog posts, those have been written by her.
Joshua Dill: How did you begin running training courses?
Philip Ball: At the time of the Columbine High School shooting in 1999, I was a school resource officer, a D.A.R.E. officer, an FBI firearms instructor, and a SWAT officer. It was a unique skill set. That event made me question why kids would come into a school to take the lives of innocent people. My father had owned a rifle as a child, but he never thought about hurting anybody with it. What cultural trends had caused this shift?
I put a lot of study into the question, and I was asked to teach the chiefs of police in Georgia about it. I developed an 8-hour course to teach them about the historic events that led to this situation, preattack indicators, the measures police departments can take to protect their communities, and how officers should respond to and neutralize threats. From that point on, I pursued any professional or private opportunity that arose to help me better understand why shooting events like this occur.
A couple of years ago, my wife and I wrote a book, Active Shooter Survival Manual, that covered the basics of the course. We priced it inexpensively so that we could get the word out and save lives. The book sold around the world; we got compliments from as far away as Israel. I started getting requests to do training sessions.That's when we started our tour. We went to 34 different states over about 2 years. During the tour, I went to actual crime scenes and interviewed survivors. I was given access to the crime scene in Las Vegas. I went to the church in Sutherland Springs, Texas, where there had been a shooting. I gleaned information from those experiences that I did not see anywhere else. I learned about distinctions that can save lives. I would ask people, "Why did you survive? What did you do? What was your mindset? What did you observe? Why did others not survive?" This information has allowed me to develop my program. I have taught police officers, schoolteachers, federal agents, and the employees of private corporations, resorts, and hotels.
Joshua Dill: Please tell us about your new online course.
Philip Ball: In this new online program, we put the best information that we have gathered into a 3-hour program, which is broken down into little 5–7-minute modules that include videos and pictures. There are quiz questions for each module. It covers the history of active killer events and explains preattack indicators. If people are trained in identifying these indicators, attacks can be prevented. The person displaying these indicators can be helped, or law enforcement can take that person into custody and prevent anybody from being hurt. We also cover the five phases of an active shooter event, which apply to every episode of workplace violence, school shooting, and terror attack. The perpetrators in all those cases go through the same five phases of behavior prior to the attack. We train people to observe them. We talk about what things lead up to workplace violence and train employees to prevent it. If all this training fails to prevent an incident, our acronym "Go Barricade Fight" describes, in chronological order, the steps that you should take if you hear a gunshot. We even have a reference card that is easily displayed in order to remind you of these steps. We instruct people on what to do when law enforcement arrives to avoid confusion. We educate about emergency action plans. Companies need to have such plans in place so that, should an emergency happen, everybody knows what to do. All those topics are covered in the online program.
The first section of our training to be rolled out is Active Killer Prevention, Survival, and Countermeasures. We will be adding additional courses as they become available. We are looking to include a course on crisis communications, as well as cybersecurity and physical security practices. Crisis communications is a verbal deescalation class I teach. It incorporates police hostage-negotiator techniques and verbal judo. It uses verbal persuasion to calm people in crisis. While this course is already developed, we are working on converting it into an online format.
Our website will also have a regular blog featuring tactical tips and the analysis of current events. We will also be writing articles that reflect American Society for Industrial Security standards. We are constantly updating our procedures to incorporate industry best practices, and I look forward to sharing those with my clients.
Joshua Dill: What kinds of organizations should consider this course?
Philip Ball: There is a chance of interpersonal violence at any organization with more than one person, but active killers are drawn to large groups of people. Anywhere with
a large group or flow of people is a potential target for an active killer. We do see two themes in these events. Violence that breaks out among employees is usually caused by internal conflicts over issues like promotion, termination, or even romantic relationships. Violence that breaks out with customers often concerns disagreements over money or occurs when a person sees an agency or company as a bully or thinks it is abusing its power. The customer starts to feel that the organization's authority is illegitimate and feels justified in resorting to violence.
Joshua Dill: Please tell us about the research that informs this training course.
Philip Ball: It started when I was a D.A.R.E. officer and a school resource officer. I observed the sociological changes among the students related to factors like violent video games, medications, parenting issues, and core values. Then, as an intelligence officer, I studied ideologically motivated terror. My work as an FBI firearms instructor and my police work in four different states, answering thousands of calls, helped me see other facets. Then, during my time in Broward County, Florida, I was a police training specialist and helped develop training courses for my officers. We were charged with going into 242 schools in Broward County and teaching the teachers preattack indicators and countermeasures to protect kids. The visits and interviews I carried out on my tour were another kind of research. I've participated in workshops with Homeland Security and the U.S. Marshals Service. I've also done security assessments and training sessions for water districts, resorts, and other entities, and I've been made aware of the unique challenges the water departments and irrigation districts across the country have with customer security and employee issues.
Joshua Dill: What sort of safety plan should an organization develop?
Philip Ball: It depends on the agency. We know that employee injuries can come from many sources, and both for liability reduction and to do the right thing by employees, we should anticipate the risks that our employees are going to encounter in their everyday work environment. First, we identify the risks, which may be different depending on the agency, its location, its customers, and its exposure. Then we provide training and systems that are going to support a culture of safety. Support from leadership is also important. Whether the leader shows up for that training or not determines the attitude of the whole agency. The fourth step would be to reevaluate safety practices on a regular basis. The person at the front desk who greets people when they come to the door should be the best communicator you have, somebody trained in crisis communications. All these steps will lower an organization's liability and strengthen its work environment so that its employees feel safe and are more productive. One dangerous trend that we have noticed is that some businesses only send part of their staff or only management to security training. All employees should attend, from the groundskeeper to the board of directors. An active killer exhibits 4–6 indicators prior to an attack. If everyone is aware of what those indicators are, the odds of stopping an attack before it occurs are better.
Joshua Dill: What specific advice do you have for irrigation districts?
Philip Ball: I've noticed two major things about irrigation districts and water districts. First, interactions with the public, whether related to the everyday business of bills
or in regular meetings with the public, can be emotional. Communication and security are key there. Second, for
the individuals out in the field, lone worker safety is a big issue. Workers who are out in a vehicle by themselves in the middle of nowhere don't have security or support. They may not be able to call for help. Those individual workers need to be trained in crisis communications for times when they are approached by angry or upset customers. They are the most visible and accessible representatives of the agency. Those workers should also know physical preattack indicators. We go over those in our physical self-defense class. We also teach basic defensive tactics.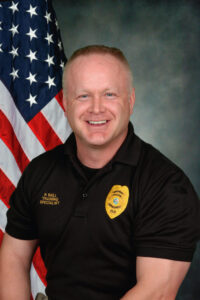 The common thread that I've seen running through crisis situations is that a person feels that they have not been treated with dignity and respect, and as a result, they lose all respect for the person, agency, or authority they feel is bullying them. In extreme cases, they feel that they are justified in taking the lives of the people who they feel are persecuting them. I recommend that every supervisor in an irrigation district or water district treat their employees with dignity and respect and be fair minded.
Joshua Dill: What else are you working on at SAI?
Philip Ball: We are also developing a phone app with tactical tips, information, and our Go Barricade Fight steps. It also has a feature called escort mode. If you hear a gunshot, you can put your finger on the icon for the app. If you determine that there's a real threat in your building, you let your finger off the icon and the app dials 911 for you. It starts telling you what to do to save your life. There will be other features coming out as well.
Joshua Dill: If an irrigation district is interested in providing access to this online training for its employees, what should it do?
Philip Ball: SAI has developed an easy to use online platform. Just go to activekillerexpert.com, click on online training, and follow the ordering process. Be sure to type in the promo code WATER. This will allow you to access our group rate, which is more than 50 percent off the retail price. If you prefer to pay by check, need an invoice, or want to bundle online and onsite training options, you can always contact us at sai.tashaball@gmail.com or (954) 483-0213.
Philip Ball is the cofounder and lead instructor of the Situational Awareness Institute. He can be contacted at saitactical@gmail.com.