We all know that buying a car can be expensive and stressful. Now imagine buying a several-million-dollar bulldozer or excavator! Missouri-based Evans Equipment lowers both the cost and the anxiety level by refurbishing mid-life heavy equipment that it acquires from trusted sources in the United States and around the world. It then rebuilds it, sometimes from the frame up, and sells it to clients that include irrigation districts. This can save customers 40–50 percent on the cost of a new machine. In this interview, Evans Equipment Co-owner Bryce Evans tells us more. 
[siteorigin_widget class="SiteOrigin_Widget_Headline_Widget"][/siteorigin_widget]
Irrigation Leader: Please tell us about your background and your company. 
Bryce Evans: I'm Bryce Evans, the co-owner of Evans Equipment in Concordia, Missouri. We restore and sell equipment, primarily Caterpillar equipment, but also some Hitachi, Euclid, and Komatsu. The scope of our business entails rebuilding and refurbishing later-model equipment at its midlife stage, when it is ready for the first or second rebuild. That normally means anywhere from 8,500 to 30,000 hours. Our sweet spot is the larger range of Caterpillar equipment, which includes dozers, tractors, scrapers, trucks, motor graders, and larger wheel loaders. Our company started its 57th year on August 1. 
Irrigation Leader: Where do you source the used equipment from, and where do you sell it? 
Bryce Evans: Historically, we relied on the agricultural community of Illinois, Iowa, Kansas, Missouri, and Nebraska for our primary sales. My brother and I came on board full time after we got out of school in 1980— we'd worked summers before then—and we made our first international sale that year. In 1980, we also bought 35 units that had been in Iraq from a German contractor. Since then, we've never looked back on international dealings. We've dealt in 37 or 38 countries, including most of the countries in South America, a lot of African countries, Russia, pretty much every country in Europe, and Japan. I think Caterpillar has around 40 percent of its world production in the United States, which means that around 60 percent of it is overseas. We bring the equipment over to the United States. When we bring it in from Europe, it arrives on the East Coast. Equipment from Japan comes into California. Equipment from South America comes into Houston. Then, we ship it by freight to Missouri to refurbish it. If we acquire machines that we don't have to rebuild, we leave them in locations in other states and sell them from there. We do sometimes sell back to the countries that we buy from, but primarily, our sales are in North America.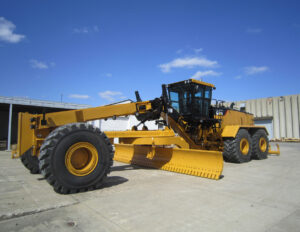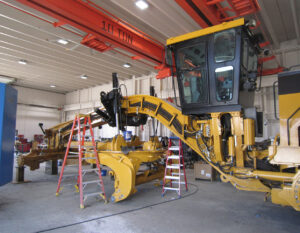 We sell to a lot of big companies. Companies that have historically bought new for their big projects will buy our equipment when they have a 2‑to 4‑year project overseas. We'll often get a chance to buy it back at the end of that project. 
Irrigation Leader: So all the major refurbishment happens at your headquarters in Missouri? 
Bryce Evans: Ninety-nine percent of it does. There were a few machines we bought in Australia, and because they were so big, we decided to refurbish them there. We hired mechanics who had previously worked for big contractors to do the rebuild over there. 
Irrigation Leader: How do you find the used machines that you refurbish? What kind of process do you go through to make sure that they are worth refurbishing? 
Bryce Evans: Especially when we're buying abroad, we have people we trust to go look at them for us. But the most important thing is knowing the company you're buying from and knowing the applications they've used their machines for. When machines, particularly later-model machines, are selling at auction, they sometimes come from companies that have gone bankrupt or haven't maintained them. If you don't know where they came from, you may buy a problem. (Don't ask me how I know that; I've made that mistake before.) We like knowing the company and having somebody we trust to go look at the machines. We like to know the company's maintenance program and what it has spent on it so that we have a good figure in our minds for what it's going to cost to refurbish the machine and sell it here in the United States. The people that we deal with are the cream of the crop. 
A mining company that is buying a machine from us may own 30 of them. That means it is a good source for us to go to learn about the idiosyncrasies of the machines if we're rebuilding one and having a problem with something. A lot of times, a dealer might not have sold enough of them to know. If you own 30 of them, you know everything that could go wrong with them. 
Irrigation Leader: Do you have people who just want you to rebuild or refurbish their machines? 
Bryce Evans: People want us to rebuild their machines all the time, and if we could get organized to do it, it would be a phenomenal business. A lot of people keep their equipment perhaps too long. We've been able to show them that there is still value in their 45,000‑hour machine, and that if they trade it to us, we can sell them a rebuilt machine with only 15,000 hours. When they look at the dollar difference and see that they can buy a machine that's 2 or 3 years newer and has a third of the hours, it gets their attention. We do a lot of that. People may think they don't have the budget, so a lot of the time, we'll sell their old machines for them so that they can afford a machine we refurbish. 
Irrigation Leader: Would you tell us about the process of refurbishment? How far do you disassemble the machines? How many parts are you just cleaning rather than replacing? 
Bryce Evans: A first-time rebuild is easier because some parts may not have to be replaced. A lot of our machines are taken down to the bare frame. Machines that have been stripped down like that are the easiest to sell because everything in them is new. When I'm talking to a customer, I've got a parts list that looks like a Sears Roebuck catalog. A lot of dealers do not want to do the refurbishment process that we do. They want to do what's called a component exchange because it's easier and more profitable for them. We take 2,000 man-hours to take a machine completely apart, check it, and put in everything, down to the bolts. It costs thousands of dollars just to put the bolts on an undercarriage. There is nothing cheap on a bulldozer that can cost $2.4–$3 million. 
Irrigation Leader: How long does a full rebuild take? 
Bryce Evans: Normally several months. If you've got four people per machine, you're looking at 600–800 man-hours per person. But you've got other things to do, too. Machines come in and have to be loaded and unloaded. Other machines might be a priority. In today's world, parts availability is our limiting factor. We've waited 4–6 months for a part from Caterpillar, which has historically had the best parts availability. The other brands are worse. Everybody today has supply-chain problems. 
Irrigation Leader: In general, how much can your customers save by buying refurbished machines instead of new ones? 
Bryce Evans: Normally 40–50 percent.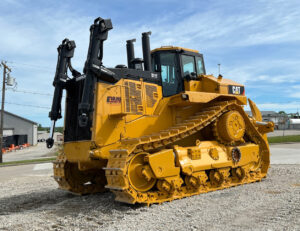 Irrigation Leader: What kind of equipment do irrigation districts generally want from you? 
Bryce Evans: Most of the people that I've talked to are looking at smaller machines, though Kennewick Irrigation District talked to us for some time about its equipment requirements and, in the end, went with the biggest ones. It's incredible to see how it's working out for the district— it is now ahead of schedule on its project. Most of the irrigation districts have got smaller machines. Incidentally, in the last week we bought 22 smaller trackhoes that irrigation districts might be able to use: Caterpillar 308s to 315s and some smaller Komatsus. A lot of these machines have 400–1,100 hours. In today's environment, because of supply chain issues, many of these machines are sold out or hard to get. Often, they are only available from Cat dealers as part of their rental fleet. We're excited to be able to offer these kinds of machines. 
Irrigation Leader: Have you ever worked on irrigation equipment, such as center pivots? 
Bryce Evans: We have not been involved with center pivots. We've worked on generators and engines, obviously, but never the center pivots themselves. That's a huge market, but it's not in our wheelhouse. 
Irrigation Leader: Is there anything else that would be of interest to the irrigation market? 
Bryce Evans: If you can find a low-hour machine that has been maintained correctly, you can save a lot and put that money in the bank. In some cases, it's taken us 20 years to convince a company to buy equipment from us, and one of the ways I have finally been able to get it to look at our equipment was to say, "With the interest I'm saving you over 1 year alone, you can buy a brand-new, out-of-box component every year or two." Saving that kind of money does an awful lot for repairs and cost studies.