When Southern Irrigation bought Highlands Irrigation in 2020, two established family businesses joined forces to provide agricultural solutions to growers and cattle ranchers across British Columbia and beyond. In this interview, Chris Ford tells us about his family background, which spans from New Zealand to British Columbia, and explains how Southern Irrigation supports a variety of irrigated crops in a climatically varied region. 
[siteorigin_widget class="SiteOrigin_Widget_Headline_Widget"][/siteorigin_widget]
Irrigation Leader: Please describe your family background and the development of Highlands Irrigation. 
Chris Ford: My dad, Dick Ford, is from Rotorua, New Zealand. In 1929, my granddad—his father—had acquired a government lease on vacant land and started grazing dairy heifers and sheep. My granddad spent his whole career developing Highlands Station. Today, Highlands Station is still in my family and is the reason why, many years later, my mom and dad named their Canadian irrigation business Highlands Irrigation. During the era of my dad's childhood, my granddad farmed 5,000 sheep and 500 cows. My granddad was one of the pioneers of red deer farming in New Zealand. My dad tells great stories of waking up for an early morning pre-chore hunt to the sound of red deer stags roaring on the farm. 
My mom, Donna Ford, is from Vancouver, British Columbia, Canada. She met my dad in England, where they were both traveling during their early 20s. My parents were married in Vancouver in 1967. While waiting to marry my mom, my dad found work at an irrigation company, supplying wheel lines from Vancouver up to ranches and farms in the interior of British Columbia. Once married, they moved to New Zealand to work on the family farm. After 2 years, they wanted to move back to British Columbia, both to be near my Canadian family and because my dad wanted to pursue work in the irrigation industry there, which had caught his interest a couple of years earlier. 
In 1969, my dad found employment as an irrigation salesman in Williams Lake, British Columbia. Today, more than 50 years later, they're still there! When the company my dad worked for went into receivership in 1974, he and my mom created their own company, Highlands Irrigation. In their first year in business, my dad traveled through the Columbia basin in Washington State. The extent of pivot irrigation got his attention, and by 1978, he was selling and installing pivots in the interior of British Columbia. 
My dad drove hundreds of miles to remote cattle ranches to help owners come up with suitable irrigation development solutions. Beef cattle operations in nearly every part of British Columbia need irrigation to grow forage crops. The irrigation land developed in the 1950s was using wheel-line and hand-line systems. Where land was being flood irrigated or was still undeveloped and labor was in short supply, it was obvious for dad that pivots were the most efficient solution. Highlands Irrigation's focus on finding the right solution for the grower, along with being a dealer of Lindsay Zimmatic pivots for 40 years, has made us a leader in British Columbia's irrigation industry. 
Irrigation Leader: Please tell us about the present-day operation at Highlands Irrigation and how it is related to Southern Irrigation. 
Chris Ford: In the mid‑1980s, ginseng was a one-time crop rotation that was grown on many ranches in the interior of British Columbia. Irrigating ginseng required a reliable source of a huge volume of PVC fittings. My dad met Bert Oostenbrink, the founder of Southern Irrigation, in Chilliwack, British Columbia, and a deal was struck that Southern Irrigation would supply all PVC fittings to Highlands Irrigation. Southern Irrigation is a leader in drip irrigation throughout British Columbia. Highlands Irrigation led the industry in pivot irrigation in British Columbia. Both companies were looking for the best irrigation solutions well before their time. Southern Irrigation and Highlands have enjoyed a nearly 40‑year business relationship and friendship in British Columbia's irrigation industry. In December 2020, Southern Irrigation bought Highlands Irrigation and brought our pivot irrigation expertise into its vast portfolio of irrigation solutions. Our entire team at Highlands now works with Southern Irrigation. 
Southern Irrigation now has seven stores across Western Canada, and we're growing at a rapid rate. As a business, we are trying to help growers across Canada find the best possible irrigation solutions. My role with Southern Irrigation is to continue to be a pivot expert in our four stores in British Columbia.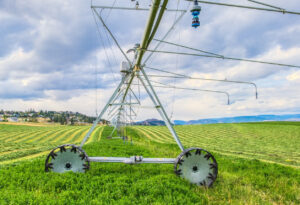 Irrigation Leader: What types of agricultural customers do you serve? 
Chris Ford: British Columbia has a diverse agricultural community. I live in an area surrounded by British Columbia's cattle industry. My expertise is mainly in irrigating forage crops. In recent years, we have seen vegetable farmers from southern British Columbia move up into the interior to grow potatoes, onions, and even carrots. Although there are many ways to irrigate these crops, center pivots are the best solution. The Okanagan Valley stretches from the Washington border north toward my home in Kamloops, British Columbia. It has a long history of fruit orchards and now produces some of the finest wines in the world. Southern Irrigation is a leader in drip irrigation in this so-called Napa Valley of Canada, which has wineries that rival even the biggest ones in California. Farmers in the Fraser Valley, near Vancouver, have a strong horticulture and dairy base. The Fraser Valley gets a large amount of precipitation year round, but we have seen the industry change from little or no irrigation to growers understanding that efficient irrigation solutions ensure crop yields regardless of the annual weather patterns. We have had great success with Lindsay Zimmatic lateral irrigation systems. In an area with some of the most expensive farmland in the world, it is important to use everything in our tool belts to irrigate efficiently and effectively. 
Irrigation Leader: How are technological innovations such as variable-rate irrigation (VRI) changing your work? 
Chris Ford: Lindsay Zimmatic FieldNet and FieldNet Advisor have revolutionized how we manage our center-pivot irrigation systems. Using this technology, our growers spend less time and therefore less money in the field and have greater control. Lindsay Precision VRI is the leader in VRI in the center-pivot world. Every sprinkler on the pivot is controlled through radio nodes. You can map your whole field so that every sprinkler puts out different amounts of water. Funnily enough, Lindsay Precision VRI was developed in New Zealand, so my dad would argue that once again, New Zealand farmers are doing it better than anyone! In British Columbia, every field is a different shape and has varying elevations. The innovations that Lindsay Zimmatic has developed allow our growers complete confidence that we are putting the right amount of water in the right place. Nearly every pump system is built with a variable-frequency drive. I look at every farm and ranch that needs a design or upgrade and challenge myself to irrigate it in the best possible way. The efficiencies we're seeing through technology are awesome, and our growers are seeing the great benefits of increased water efficiency and greater yields. 
Irrigation Leader: Tell us more about how irrigation in British Columbia differs from irrigation in the United States. 
Chris Ford: In theory, it is not different at all. We have land we want to grow food on and a water source that we need to manage carefully. People think we've got limitless water up here, but that's not true. Our growers' water licenses are often the main assets of their farms or ranches. There is a huge respect for every drop of water. We use gravity-fed water systems from the mountains, we pump out of rivers and lakes, and we use wells. We have farms as small as an acre or two and ranches that are over a million acres. We grow crops near the ocean, in our interior desert, and in high-elevation alpine climates. We have incredible wildlife and have to pay close attention to the water needs of the salmon of the Pacific Northwest. The part of my job that I enjoy the most is going to a property to help a grower come up with a better irrigation solution. Every customer's situation is unique. 
Chris Ford works in project design and sales at Southern Irrigation. For more on Southern Irrigation, visit southernirrigation.com.