Canals account for the bulk of western water delivery systems. As communities and cities have grown around these water systems, the push to use them for purposes beyond water transmission and delivery intensifies. The Salt River Project (SRP) provides irrigation water and power to the greater Phoenix metro area. Over the years, SRP has worked with cities and developers to provide recreational and commercial development opportunities along its canal banks. In fact, SRP has permitted recreational use of its canal banks since 1964. For SRP, safety is part and parcel of both the water delivery and recreational components of its canals. While SRP does not warrant or represent safety along its canals, it undertakes a variety of community programs to foster a culture of water safety. For example, SRP coordinates water safety events and swimming lessons across the Phoenix metro area. Mike Patrick manages SRP's water facility construction and maintenance activities. He has been involved with SRP's water operations for 31 years. Mr. Patrick spoke with Irrigation Leader's editor-in-chief, Kris Polly, about SRP's safety protocols, its integration of recreation into canal operations, and the need for community outreach.
[siteorigin_widget class="SiteOrigin_Widget_Headline_Widget"][/siteorigin_widget]
Kris Polly: Please provide a brief overview of SRP's canal safety program.
Mike Patrick: SRP focuses on several key areas of canal safety. One is keeping unauthorized vehicles off canal maintenance roads. Those roads are not meant for routine traffic.
We have signs posted at all the major entry points near our canals. The signs indicate that no unauthorized vehicles may come onto the canal roads and that when people come on to the property, they do so at their own risk. We have 131 miles of canal with maintenance roads on each side, so we have more than 260 miles of canal roads. We install road gates as needed—if we see there is an issue with traffic, we'll put the road gates up.
I have seen situations where people try to push them open or take their truck and knock them down. We will continue to reinforce those gates with enough concrete to prevent gates from being moved that way.
SRP contracts with a security firm to patrol the canals. The contract security officers are in contact with SRP's Security Operations Center (SOC). They have an assigned region that they patrol and are dispatched by the SOC when issues are reported. There are four officers on duty 24 hours a day, 7 days a week, 365 days a year—which was implemented within the last 10–15 years. Prior to that, security officers were only used during the summer season.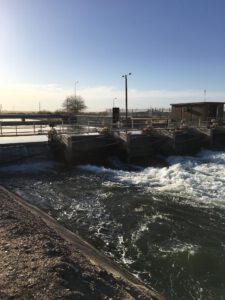 Kris Polly: What kind of safety infrastructure does SRP have in place?
Mike Patrick: While SRP does not fence its canals, it does fence off areas with high exposure to risk—for example, automated trash rakes and pump sites. We also work diligently to facilitate safety in and around canals. We have installed two Worthington TUFFBOOMs upstream from two electric fish barriers and at one siphon.
We also set runged ladders on the side of the canals every 300 feet, alternating on either side of the canal. We address their visibility by painting them yellow at the top. We also have installed ladders at our check structures, control sites, and grates—any site where the canal goes underground.
Kris Polly: How does SRP keep track of its safety hazard activities?
Mike Patrick: SRP conducts an annual public access risk assessment. We take a team from our safety, maintenance, distribution operations, and transmission operations departments. The team drives the entire system to identify any hazards to the public and to ensure that all the proper signage is in place. Some sections of our canal maintenance roads have power lines running along them. The team ensures that the guide wires that provide tension to the poles have the proper guards and reflective material. The team also looks for tripping hazards, such as potholes or erosion.
In addition to our annual public access risk assessment team, SRP trains all its water field employees annually to identify hazards within the canal right-of-way.
Kris Polly: Does SRP permit recreational opportunities along its canals?
Mike Patrick: We permit recreation along all our canals. There are 62 miles of canal multiple-use projects improved by the city [of Phoenix] with concrete paths, lights, and landscaping. There are 13 miles more in progress.
In the Phoenix metro area, there is a lot of information online and on television about promoting the safety of children in and around water. The public has been very good about being aware of canal safety. It is rare that people actually fall into the canals. In addition, our public outreach team has an education and information program to address canal safety. They provide educational training by request.
Kris Polly: Please describe SRP's public outreach efforts regarding safety.
Mike Patrick: SRP partners with fire departments, hospitals, city aquatic programs, and schools to provide critical information on water safety through resources and programming. We engage with families at community events year-round and conduct a water safety campaign at valley pools during the summer months. Our efforts also include billboards, social media ads, and other media opportunities, all in an effort to educate the public and create awareness on water and canal safety.
Kris Polly: What advice do you have for other water managers about best practices to help ensure canal safety?
Mike Patrick: One, conduct regular reviews of the system to identify and correct potential safety hazards. Two, train your employees to look for and report safety hazards. And finally, install barriers at high-risk facilities.