Phil Rigdon has over two decades of experience in the Yakama Nation's Department of Natural Resources. and today is the department's superintendent. He has been involved in numerous regional and intertribal initiatives, including the Tapash Sustainable Forest Collaborative, the Yakima River Basin Watershed Enhancement Project Workgroup and Conservation Advisory Group, the Washington State Columbia River Policy Advisory Group, the Intertribal Timber Council, and the Hanford Natural Resource Trustee Council. In recognition of his commitment to cooperation in managing the water resources of the Yakima basin, Mr. Rigdon was the 2018 recipient of the Washington State Water Resources Association's (WSWRA) Water Resources Leadership Award for excellence in water resources management.
In this interview with Irrigation Leader Editor-in-Chief Kris Polly, Mr. Rigdon discusses the Yakama Nation's natural resources management work, its projects to restore local waterways and replenish local aquifers, and his experience partnering with irrigation districts in the region.
[siteorigin_widget class="SiteOrigin_Widget_Headline_Widget"][/siteorigin_widget]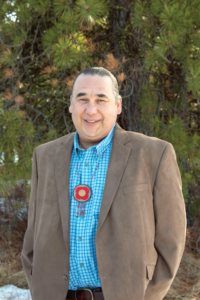 Kris Polly: Please tell us about your background. Phil Rigdon: I'm an enrolled member of the Yakama Nation. I grew up on the reservation. My background is in forestry: I have a bachelor of science in forest management from the University of Washington and a master of forestry from Yale University's School of Forestry and Environmental Studies.
In 2005, I came in out of the woods, where I was the fuels manager, and took charge of the Department of Natural Resources for the Yakama Nation. My current position is superintendent of the Department of Natural Resources. The department encompasses 17 different programs that cover fisheries, water, forestry, and environmental protection, among other areas.
Kris Polly: How many people are associated with your department?
Phil Rigdon: During the busy time of the year, the Department of Natural Resources can have more than 500 employees. Right now, our Fisheries Program covers an enormous area. We work on fish habitat in many different watersheds and run hatchery facilities, which we call supplementation facilities. We'll have 230–240 people working in Fisheries throughout the year—some part time or furloughed, others all year round. The tribe has been working on restoring fisheries in an area that encompasses our treaty area and our usual and accustomed fishing areas and goes all the way to the ocean—covering more than one-third of Washington State in total.
Among other programs, our water program has 10 people and our wildlife program has close to 40. We're one of the largest timber tribes in the country, with around 50 people working in forestry year round. Forestry will grow in staff during the summer, when we're doing precommercial thinning, planting, and other active forest-management activities.
Kris Polly: I wasn't aware of the scale of your department. That is a tremendous amount of responsibility.
Phil Rigdon: I am proud of the tribe and the work we do, but it is a crazy job at times, I will say that.
Kris Polly: Tell us about the department's top issues and goals.
Phil Rigdon: There are a lot of things that are important to us, but water is probably the most critical. It supports our fisheries and the agriculture on the reservation. It is also important to our people's culture.
Historically, we have identified problems but not solved them. Those problems are real. How do we ensure that there is enough water for a robust salmon run and for the important agricultural economy of the Yakima Valley and the economy of our people, too? That is a critical part of what I work on.
Kris Polly: Tell us about your experience cooperating with local irrigation districts.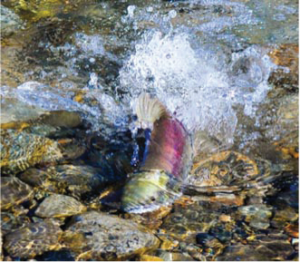 Phil Rigdon: When I came out of the woods, I was pretty naïve about water. I had a staff person named Tom Ring who helped explain a lot of the Yakama Nation water issues to me. I had my armchair beliefs about what our water rights were, but the truth was less simple and more demanding.
An example was a proposal for a reservoir east of the city of Yakima. Both the Yakama Nation and Roza Irrigation District had concerns about moving forward with the project. Ron Van Gundy was part of the team for Roza Irrigation District. Historically, the tribe and the irrigation district did not get along. Most of the time it was our attorneys who spoke, and it never turned out well. But Ron and I were able to start a dialogue. After these initial conversations, the Yakama Nation and the Roza Irrigation District signed a joint letter saying that we wanted to go in a different direction. We decided on seven common principles: looking at new water storage, ensuring fish passage at the six reservoirs in the basin, enhancing fish habitat, modifying existing structures and operations, improving groundwater storage, moving toward the market-based reallocation of water, and enhancing water conservation. This eventually developed into the Yakima Basin Integrated Plan.
Building trust and friendship with a key person can help break down barriers. My friendship with Ron was a key element in why I got the WSWRA Water Resources Leadership Award. We were open enough to understand each other and what the other person needed to satisfy his community. We are now achieving things that I never thought we could, and I'm very proud of that.
Ron passed away a couple of summers ago, and I was asked to speak at his services. I got up there and said, "If you told me when I had started this job that I would be here, I would never have believed you." There's going to be salmon in the Yakima basin forever because Ron stepped forward and we became friends. And there are going to be apples and cherries in this valley because I stepped forward and our friendship brought us there. I really do believe that.
There are a lot of brilliant people in this basin. Once we start really talking, things can get solved in ways that are pretty cool, whether it's the pump station at Kachess or the project at Cle Elum Dam where a 100-foot hole has been dug into the dam for fish passage. It's awesome to watch these things become reality.
Kris Polly: Tell us about the Bateman Island project.
Phil Rigdon: Back in 1939, someone built a causeway across the Columbia River to Bateman Island, which was farmed at one point. No one knows who built the causeway. There are actually some important cultural resources on the island that our people want protected; we've had conversations about that with the U.S. Army Corps of Engineers. The causeway stopped the flow of the Yakima River, which had flowed around the southern part of the island into the Columbia River. That creates a thermal barrier on the lower reaches of the Yakima River. Warm-water fish hide out in this warm area and pick off all the salmon that we're trying to get out into the ocean. What we're hoping to do is to find a way to remove the causeway or at least return flow to that part of the river. That would have an enormous effect on the flow of warm water at that lower reach and allow the river to be a bit more natural. We hope it will create cold water refugia there for salmon.

Kris Polly: Do you have a particular fix in mind, or are you studying the issue right now?
Phil Rigdon: We're working with the Army Corps, the Washington State Department of Fish and Wildlife, Kennewick Irrigation District, the Yakama Nation, and the Yakima Basin Fish and Wildlife Recovery Board. We joke that a couple sticks of dynamite could solve the problem, but it's never that simple. We want to be respectful. There is now a marina downstream, so we need to make sure that we don't harm the boats.
Kris Polly: Please tell us about your tributary supplemental program.
Phil Rigdon: The Yakama Nation supported Kittitas Reclamation District's (KRD) tributary-flow supplementation/restoration program. It is an excellent alternative to traditional methods of helping streams during drought and low-water years. The program uses KRD's existing infrastructure, which crosses key upper-basin tributaries, to carry water to the key streams during low-water periods. The water is either allocated through water conservation projects or borrowed through wheeling arrangements with downstream water users. This effort allows KRD to deliver water to streams that would otherwise be flow limited during droughts and during low-flow periods that occur almost every year due to overallocated and low water supplies.
To make this possible, KRD is completing a canal-lining project that will provide conserved water to boost instream flows not only in drought years, but every year. It's a pretty cool thing. We've been working on recovering salmon in these areas for a long time. By using well water and using space inside the irrigation district's channels to move water to some of the tributaries in the upper Yakima around Ellensburg, which had previously been drying up, we can keep the aquifers charged and maintain enough surface water to allow salmon and other aquatic life to use all reaches of these creeks and streams.
During the drought in 2015, when everything was drying up, a bunch of the creeks that we expected to go dry had water in them due to our efforts. That will benefit salmon enormously. It's exciting to see a solution; in this case, the solution essentially came from the irrigation district. They were thinking about what was necessary for the fish. That's the cool part: We are all thinking about each other's needs and concerns, not just our own. With this unique group of folks working together on all these different components, we can sustain the Yakima basin into the future.
Kris Polly: Please tell us about the aquifer recharge work you are doing.
Phil Rigdon: Over the years, we've witnessed a change in the groundwater table of over 25 feet in some areas. When you understand the behavior of the groundwater, you can take water during high-flow periods in the winter and use it to refill the aquifer. That will save water for the irrigation season and allow you to push back the time frame on needing to call in water in the summertime.
We are currently doing this with the Toppenish Creek Alluvial Fan Project. We had a problem with a bunch of the springs and wells going dry. This was caused by flood abatement work done back in the 1970s that rapidly flushed the water out of Toppenish Creek from the White Swan area. What we are doing now is putting water into some old creeks and putting it into the flood plain. We're trying to monitor what's happening. We recharged 3,000 acre-feet of water into the aquifer last year; we're trying to get up to 5,000–10,000 acre-feet per year over time. By the second year, you saw springs reappear in spots where elders told us they used to exist. They'd tell us, "You used to be able to go trout fishing here." So we're seeing these things come back; the flood plain is actually being recharged.
Our recharge work can be passive, as in the case of the Toppenish Fan Project. Or, in the larger areas on the Wapato Irrigation Project where groundwater levels fluctuate by over 25 feet, we can use science and groundwater modeling to see how we can use that water during the year both for the benefit of fish and for the out-of-stream needs of the reservation. This could also be applied to other areas in the basin. There are opportunities east of the Yakima.
Kris Polly: A variation of that idea was creating cold-water refugia by applying water on the ground during the off season.
Phil Rigdon: That's exactly what we're talking about. The water we put out in White Swan is going to come out in Toppenish Creek in July and August and will cool down those creeks. That will give us some resilience for climate change and will support the steelhead in that creek.
We'd like to do the same thing to enhance the whole Yakima River. Taking care of the Bateman Island causeway issue and decreasing the river temperature with water retiming will help us withstand the 100-degree weather. It's always been hot and dry on my side of the mountain, but in the Yakima basin, there were a million salmon before the salmon runs were damaged by roads, diversions, and water availability. I don't know if we'll ever reach those levels again, but our goal is to improve those numbers.
Kris Polly: Is your department in charge of the irrigation project as well?
Phil Rigdon: The Wapato Irrigation Project is run by the Bureau of Indian Affairs, but our department's water program and engineering program are closely engaged with it. In fact, our engineering program took over and now contracts the engineering part of the Wapato Irrigation Project. We've been working on a combined modernization and conservation plan. Our goal is to modernize the Wapato Irrigation Project and to undertake conservation work in a manner that will provide better delivery to farmers and increase efficiency while still saving water through conservation. That will enhance fisheries and stabilize agriculture on the reservation.
Kris Polly: What is your message to your state legislators and to Congress?
Phil Rigdon: We Yakamas are well known for having gone through legal battles where we've duked it out and fought hard. But we should also be known for our innovation with our partners. We need to invest back into our communities. When you're in the water business, capital projects require a lot of money. How do we start achieving things on the ground?
That investment will help my community enormously, and will also help the basin as a whole, from the farmers to the packers to the workers. This investment is critical for the state of Washington. We are the leaders of salmon restoration. We provide traditional foods like salmon as well as the apples and cherries that the economy of Washington State is dependent on.
More importantly, we're doing this as a community. We're not trying to fight with anyone. I want to see us adopt a "what's good for the irrigators is good for the tribe; what's good for the tribe is good for the irrigators" mentality. I'm proud of what we're doing. We've got a great model that we've developed over time, and it's something people should support.
Phil Rigdon is the superintendent of the Yakama Nation's Natural Resources Department. He can be reached at phil_rigdon@yakama.com.