Nebraska's natural resources districts, which handle a wide range of soil and water conservation and management issues in service areas mapped onto watershed boundaries, are about to turn 50 years old. They are observing that anniversary with a wide range of events throughout 2022. To get a sense of what the NRDs have accomplished and how they have changed over the last 50 years and to take a look forward at their next 50 years, we speak with Dean Edson, the executive director of the Nebraska Association of Resources Districts (NARD), and Jim Eschliman, the president of the NARD's board of directors. 
[siteorigin_widget class="SiteOrigin_Widget_Headline_Widget"][/siteorigin_widget]
Irrigation Leader: Please tell us about your backgrounds and how you came to be in your current positions. 
Jim Eschliman: Around 15–16 years ago, I was elected to the Lower Loup NRD board, and a few years ago, I was elected to the NARD board. Right away, it needed somebody to fill in an officer position, and I forgot to step back instead of stepping forward. I ended up moving up the ladder, and for the last 2 years, I've been the president of the association. I sold my dairy cows in 2018, so besides my board service, I consider myself retired. 
Dean Edson: My background with natural resources goes back a long way. I was a partner with my dad in our family farming operation in Gothenburg from the 1970s until the mid-1980s. We were involved when the NRDs were first created. I was in contact with the manager at the time, Ron Bishop, and started thinking about things related to water and soil conservation we could do on the farm. I left the farm in 1984 during the ag crisis, went to college, and ended up working as the director of state governmental relations for the Nebraska Farm Bureau. I also started working on water and natural resources issues with the Farm Bureau, which got me back in touch with the NRDs again. In 1997, I accepted the position of NARD executive director, and I've been involved with a passion of mine, preserving natural resources in Nebraska, ever since. 
Irrigation Leader: What was the need or issue that inspired the creation of the NRDs? 
Jim Eschliman: After the Dust Bowl, a lot of special-purpose districts were developed to solve soil and water-related problems, and a lot of times, their roles overlapped. The puzzle of overlapping authorities and responsibilities was confusing, and Nebraskans wanted something that was clearer. 
Historically, a lot of the discussions were related to funding. How do you fund conservation programs, and is there a better way to do it? Prior to the creation of the NRDs, conservation districts were funded through state appropriations that didn't provide enough money to accomplish their goals. When the NRDs were created, the legislature gave them the authority to levy local taxes to fund their conservation programs. The legislature also gave the districts 12 statutory responsibilities, including water, soil conservation, waste reduction, range management, flood control, recreation, and tree planting. Over time, the legislature has added more duties to those 12 responsibilities. 
Dean Edson: Back in the late 1960s, people around the nation started discussing natural resources management and funding natural resources programs. From my reading and discussion with the initial organizers of the NRDs, my understanding is that both Nebraska and California were looking to create what we now call natural resources districts—entities that would manage water and soil issues and natural resources within areas defined by river basin boundaries. In 1969, Nebraska moved forward with that concept and merged all the different political subdivisions that dealt with natural resources, more than 150 of them, into the NRDs. The 1969 legislation mandated the establishment of 24 NRDs by July 1, 1972, when their first organizational meetings would take place. In 1989, two NRDs merged, so now there are 23. They are based on Nebraska's major river basins and allow for the coordinated management of natural resources. 
As I mentioned, California considered a similar system, but decided not to go through with it. We did. Today, Nebraska has the most irrigated acres in the nation—9.1 million—and, due to our management, our groundwater levels are at near-predevelopment levels. When we find that some aquifers are declining or can't handle a lot of irrigation, NRDs can put some limitations on development to protect the resource. Unfortunately, California has pretty much depleted its aquifers and there are even areas of the state where the ground elevation has dropped because of groundwater extraction. Several times in my career, I've traveled to talk to officials in California about creating a similar NRD system and how to make it work. California has now started down the path of developing some management plans, but unfortunately, it is 50 years behind. Today, Nebraska's unique system of locally controlled, watershed-based conservation is widely admired throughout the nation. In recent years, at least 11 states, including on the East Coast, on the West Coast, and in the South, have inquired about establishing a similar system for natural resources management. I've traveled around the country discussing how to establish local management systems like Nebraska's NRDs to help other states with groundwater management. 
Irrigation Leader: To what degree do the 23 NRDs differ in the specific tasks they carry out? 
Dean Edson: Nebraska is a diverse state, so it's all driven by local natural resources issues. The average rainfall in the northwest corner of the state is 11–14 inches a year, but in the southeast corner, it's 32–36 inches. In the eastern part of the state, irrigation isn't necessarily required to grow a crop, and there are a lot of dryland acres. In western Nebraska, you need irrigation to grow crops. Therefore, irrigation management and groundwater management are more important out west, and those tasks are a higher priority for western NRDs. In eastern Nebraska, there are a lot of rolling hills and a lot of rain events, so there is a need to develop and build flood control structures. Large urban communities, such as Lincoln and Omaha, have demands for flood control and recreation. The 12 statutory responsibilities allow for flexibility, so the local boards decide on their priorities. 
Irrigation Leader: How have the NRDs changed over the 50 years of their existence? 
Dean Edson: Until the mid-1990s, it was the policy of the state to develop every irrigated acre possible. There were few things that local districts could do to limit development when they ran into problems. They tried numerous things before they could put a moratorium on the development of irrigated acres. The policy of the state changed in 1996, when we got more proactive about managing water in a conjunctive-use fashion, looking at both stream flows and groundwater levels. In 2004, state policy changed again to allow the districts to manage groundwater more aggressively, especially in areas of shortage, and to try to address conflicts between the different users, including both surface water users and groundwater users. 
I find it interesting when politicians find out about these problems and ask, "Why didn't you guys do something to fix this back in the 1980s and 1990s?" I just sit back and smile because we couldn't—it wasn't the policy of the state. The state's policy was aggressive development. Now, we're trying to change that to manage development. 
We have one of the most aggressive management systems in the entire country in the Republican River basin, covering both groundwater and surface water. There are very restrictive allocations in southwestern Nebraska. At the time, we didn't know for sure if those restrictions would work to ensure that producers could still grow economic crops. 
One distinctive thing about the NRD system is that we work closely with irrigation companies, center-pivot manufacturers, and the agribusiness sector to push for more efficient irrigation systems and crops that are more drought tolerant. It's a group effort that is coordinated through the NRDs, but we couldn't get it done without the help of the agribusiness sector, especially the center-pivot manufacturers' development of more efficient irrigation systems. 
Jim Eschliman: In the future, things are going to keep getting fine-tuned, particularly when it comes to the sprinklers and electronics that center-pivot manufacturers are developing. Every piece of irrigated ground is different—some need more water than others—and by fine-tuning application, we can conserve a lot of water. Initially, we saw some hesitancy about more aggressive conjunctive-use water management, but the mindset is changing as we see that it is working. There's an ongoing learning curve with water management. When the Lower Loup NRD imposed our moratorium, we really didn't have any objections from the producers in our district, which I thought was good. 
Irrigation Leader: How is the 50th anniversary being observed in NRDs across the state? 
Jim Eschliman: We will have several events throughout the year. We're proud of our tree-planting history—Nebraska is the home of the Arbor Day holiday, with Arbor Day Farm and Lodge located in Nebraska City. In early April, the NRDs will be planting their 100 millionth tree, and we'll also be doing a tree-planting ceremony at the Nebraska State Capitol on Arbor Day. The NRDs were officially created on July 1, 1972, so during the week of July 11–15, we will be celebrating NRD Week, during which the 23 NRDs will host open houses. Governor Pete Ricketts will issue a proclamation, and other events will be held throughout the week as well. 
Irrigation Leader: What is the public perception of the NRDs in Nebraska? 
Jim Eschliman: At times, we need to get our message out more to the public, because people may not always realize what we do. Nebraska's NRDs will continue to build upon their past, refine their policies, and adapt as they look to the future. Conservation is something that affects us all, and we need to pitch in and be good stewards of our land and water. Locally elected NRD boards across the state are uniquely positioned in their communities to help manage our natural resources for future generations. 
Dean Edson: I agree with Jim. We probably don't boast about ourselves enough. Nebraskans are appreciative of everything the NRDs do to manage water quality and quantity; carry out conservation programs; and build and maintain flood control structures, which include recreational facilities. Overall, they're very pleased. If they haven't lived in other states, they probably don't realize what the other states are missing. Jim mentioned that landowners weren't all that opposed to the moratorium in the Lower Loup NRD. That's because they've been involved with their local NRD on water management and understand the concepts. It's an advantage to have locally driven decisionmaking that involves local citizens rather than having somebody from the state calling all the shots. It's been set up this way for years, so when landowners have natural resources issues they want to address, they know they can work with their local NRD. 
Irrigation Leader: Do you have a message for the state legislature or for Congress? 
Dean Edson: We get criticized sometimes, and from time to time, a senator in the Nebraska Unicameral introduces a bill to weaken our authorities. However, I've never seen our authorities weakened; I've only seen them expanded. In Washington, DC, we've got partnerships with the U.S. Department of Agriculture's Natural Resources Conservation Service, the Farm Service Agency, and the U.S. Forest Service. We appreciate the support we get from our congressional leaders on those conservation programs, because we're able to take federal dollars and leverage them with our local dollars to do more. We work closely with our congressional leadership to get money put into the Water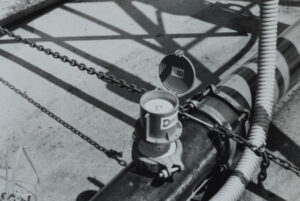 Resources Development Act, and we're grateful for that. We are finishing up a massive flood control project with the Papio–Missouri River NRD, in partnership with other state and federal partners, to build a flood levee around Offutt Air Force Base in Omaha. 
Irrigation Leader: What is your vision for the next 50 years of the NRDs? 
Dean Edson: I'm probably not too far away from retirement—there are probably some people who say that I should have retired years ago—and I maintain a close relationship with all the friends I used to farm with back in Gothenburg. They keep asking me, "Dean, when are you going to retire? Come back here full time—we need somebody to drive the grain cart." Well, I saw an article yesterday about John Deere's autonomous tractor. They don't need people to drive the tractors anymore. I texted the article to my friend and asked, "What happened to the job I was supposed to get when I retire?" 
I tell you that story to point out that technology is going to have a profound effect on the agriculture and natural resources sectors within the next 10–15 years. The technological improvements that I have witnessed over the course of my career have been amazing. Back when I was actively farming, it would have been hard to dream of the technology that farmers now have at their disposal to manage water and water risk. 
For example, back in the 1970s, we were applying 30–35 inches of water from an irrigation canal per acre over a 60‑day irrigation period. It took 10–14 days to get over a field, and you had to be out there at least twice a day to change the water. With corn, we hoped for 200 bushels per acre. Today, on those same fields, we apply 11–14 inches of groundwater per acre through a center pivot over a 90‑day period. We can put an inch of water on a field in a little over a day. Moisture sensors send information to our smartphones about whether we need to run the pivot or not. The pivot can be controlled and monitored by smartphone, and we are getting 275 bushels per acre. Several NRDs share the costs of irrigation technology equipment, which helps producers with overall water use efficiency and farm profitability. 
In 15 years, people will look back on 2022 as simple. The NRDs will have to stay on top of change and keep evolving with the technology to help producers manage their resources. 
Jim Eschliman: Over the past 50 years, the NRDs have adapted while facing changes in technology, funding, legislation, agencies, and society. Nebraska's locally led conservation model has been successful because of our ability to adapt to the local needs of our communities. 
I'd like to thank Dean for all his help. He's the engine that runs this machine, and he does a really good job. We are proud of him. 
Dean Edson: I appreciate Jim's comment, but if it weren't for leaders like Jim serving on the local NRD boards and the NARD board and making decisions, none of this would be possible. The NARD employees follow their lead and make sure the NRDs have what they need to move forward. 
Dean Edson is the executive director of the Nebraska Association of Resources Districts. He can be contacted at dedson@nrdnet.org. 
Jim Eschliman is the president of the board of directors of the Nebraska Association of Resources Districts. He can be contacted at jeschliman@hotmail.com.