The City of Yakima's Water/Irrigation Division provides drinking water and urban irrigation services to around 70,000 urban drinking water users and around 30,000 urban irrigation users. Currently dependent on water from snowpack, the city is implementing aquifer storage and recovery (ASR) strategies as climate change shifts winter precipitation toward rain instead of snow. The city is also working to replace Nelson Dam with a roughened channel diversion, reducing flood risks while benefiting endangered wildlife.
In this interview, David Brown, the assistant public works director and manager of the Water/Irrigation Division, speaks with Irrigation Leader Editor-in-Chief Kris Polly about the division's services and current projects.
[siteorigin_widget class="SiteOrigin_Widget_Headline_Widget"][/siteorigin_widget]
Kris Polly: Please tell us about your background and how you came to be in your current position.
David Brown: I started in the water and wastewater business in 1972 at Sheppard Air Force Base in Wichita Falls, Texas, where I went to school. I worked in water and wastewater at Randolph Air Force Base in Texas; Lajes Field in the Azores; Malmstrom Air Force Base in Great Falls, Montana; and Fort Benton, Montana. I came to Yakima as the water treatment plant supervisor and worked my way up to assistant public works director. I have been here for 35 years now.
Kris Polly: Please tell us about the City of Yakima's Water/Irrigation Division and its history.
David Brown: The city of Yakima was founded in the late 1800s near what is now Union Gap. The city moved north to its current location as North Yakima, eventually changing its name back to Yakima. The water and irrigation systems were served by the local power company as a for-profit venture. In 1926, the city bought the water and irrigation systems and took over operations and maintenance. Drinking water treatment moved from Oak Flats, some 17 miles northwest of Yakima, to the new water treatment plant in 1972. As the city grew, local housing developments took over the orchard irrigation systems to water their lawns and gardens. The city took on these irrigation systems and operated them as Local Improvement Districts (LIDs). The LIDs, however, had no provisions to collect funds for anything other than operations, so they began to fail. In 1998, the city converted all 66 existing LIDs into a single utility. The city then set to work improving the facilities, eventually replacing some 32 miles of wood-stave main with PVC and high-density polyethylene at a cost of nearly $17 million, all funded by the ratepayers.
Kris Polly: The old pipes were actually made out of wood?
David Brown: Yes. Back in the early parts of last century, workers would mill long boards—like floorboards, with a tongue and groove, but slightly curved—and build a round pipe out of them with metal bands around it. There were wood-stave mains from 8 to 36 inches in diameter. We actually slipped high density polyethylene and PVC pipes inside the wooden pipes, using them as carriers so that we didn't have to dig everything up. The wood- stave mains leaked like sieves. Before we replaced those 32 miles of pipe, our diversion was around 23 cubic feet per second. Now, at peak use in summer, it's about nine.
Kris Polly: How many employees does the division have?
David Brown: There are about 40 of us in Water/Irrigation. However, we are supported by other divisions of the city administration, including human resources, finance, and information technology.
Kris Polly: Tell us about your service area and customer base.
David Brown: We provide drinking water to about 73,000 people through some 19,000 services. We serve residential, commercial, industrial, and public users, including schools. Our service area covers around 12,000 acres. Our water sources include the Naches River, four wells, and storage in the aquifer. We provide irrigation water to some 11,000 residential and commercial services totaling about 30,000 customers across 3,500 acres. We do not have agricultural users. Our irrigation water comes from our own diversion, Naches Cowiche Canal; Yakima Valley Canal; and Yakima Tieton Irrigation District.
Kris Polly: What are the Water/Irrigation Division's top issues?
David Brown: When it comes to drinking water, our top aim is to be able to serve our customers even during drought years. Some of our water is junior to the Bureau of Reclamation's storage water, which has a priority date of 1905. We have some storage water subject to proration in drought years and some senior water rights, but only with a 1902 priority. Our groundwater has an even more junior priority date, in the 1960 range. There is a real possibility that, if more senior river water users call priority during a drought year, all that junior groundwater could get cut off.
To address these supply issues, we have chosen to implement aquifer storage and recovery (ASR). We will store water in the aquifer during the winter and draw from it in the summer. This is a feasible solution to water supply issues, even considering the potential effects of climate change. Predictions for our area suggest that we will have more rain in the winter rather than snow. ASR will allow us to capture that excess winter rain, treat it to drinking water standards, and store it. Essentially, we are using the aquifer as a giant tank underneath the city where we can store water for use during times of drought.
ASR would also allow us to pump groundwater even if senior river water users call priority during a drought year, since we would have put that water in the aquifer under the correct priority at the correct time. It would be our water, and we could use it whenever we wanted.
Kris Polly: Is this process different from aquifer recharge?
David Brown: It's the same process, but we are doing it specifically for the purpose of storage and recovery. ASR is quite common in Australia and Oregon, but in Washington it is fairly new. Only Yakima and Walla Walla have permitted ASR.
Kris Polly: Have you had to build any new infrastructure to do ASR?
David Brown: We've had to modify some of our wells to allow us to put water down in the aquifer. Currently, we have three wells that can put water into the aquifer. In the future, we'll drill two new wells that won't have water rights—their sole purpose will be to recover aquifer storage water.
Kris Polly: What are your other top issues?
David Brown: For irrigation, our aim is the refurbishment of Nelson Dam, a 1985 concrete ogee which is currently failing. There are fish passage issues, and the dam also stops the natural transport of gravel, increasing the floodplain area above the dam. Our idea is to replace the dam with a 21⁄2 percent grade roughened channel. We will incorporate fish passage for both upstream and downstream migrants. This will allow us to consolidate four irrigation diversions into one. This consolidation, in turn, will allow us to to remove a dam on Cowiche Creek, an Endangered Species Act (ESA)–listed steelhead spawning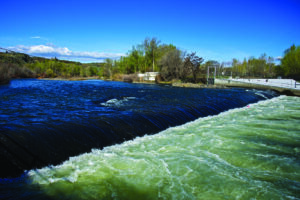 environment. Our project is not only good for fish, it also permits us to do some projects that will reduce flood risk to the City of Yakima.
Kris Polly: What is the nature of the current flood risk to the city?
David Brown: Nelson Dam is not an impounding dam; there's no reservoir behind it. It's just a diversion dam in the river. It does check the water up to some degree, however, and widens it. The drop in velocity means that the river starts depositing gravel above the dam. As the river bottom gets higher and higher, the floodplain gets wider and wider. The floodplain now includes quite a bit of the area around there, including Highway 12. We want to replace it with a natural, roughened channel, changing the slope from almost 90 degrees to 21⁄2 degrees, similar to the river above and below. That will allow natural gravel transport to continue. The levee setbacks the county has already done and some things it is going to do upriver will allow more gravel to move downriver and reduce the floodplain above the dam.
Also, because we will be consolidating four diversions into one and bringing two diversions that are downstream Yakima's aquifer storage and recovery facilities. up to our dam area, we will be able to do work in the lower part of the Cowiche Creek. That will remove an Alaska steeppass at the mouth, which will help reduce the river level and get it back down into the floodplain where it belongs. It will also allow access to the Cowiche Creek for ESA-listed fish. If we work together and link projects together, we get things done a lot more easily. In this case, it's cheaper. If we went back to a concrete dam, it would cost us more than putting in this roughened channel. It would also be virtually impossible to get the permits to do that. This plan meets a lot of goals: We reduce flood risk, Yakima still gets its water, and we improve fish passage up and down.
Kris Polly: Would you tell us about the process of getting funding for the Nelson Dam refurbishment?
David Brown: We're doing this project in cooperation with the Yakima County Flood Control Zone District. The county has two Floodplains by Design grants from Washington State, totaling $4.7 million. It is contributing that money. This dam is not only going to help the city, it's going to help the flood control zone district to reduce flood risk. The city will do a $6 million bond that our ratepayers will be paying back, and we have money in our reserve account already, which is also from the ratepayers. We are also talking to the Bonneville Power Authority, the Bureau of Reclamation, and the Yakima Basin Integrated Plan regarding potential funding.
Kris Polly: What challenges does urbanization pose, and how do you see demand developing?
David Brown: We are a city, so our area is already urbanized. As the agricultural areas around Yakima are urbanized, it will be important to capture the water that was used for agriculture and make it available for the irrigation of lawns and gardens. That will put less stress on the drinking water systems providing water to the new urban area. In fact, there is a memorandum of understanding between the irrigation suppliers and the drinking water suppliers to do just that. At some point, the drinking water suppliers may need to acquire some agricultural water to serve domestic needs. That should be possible as housing replaces agricultural land.
Kris Polly: What is your vision for the future?
David Brown: To have enough water to serve both the domestic needs and the irrigation needs of urban dwellers. Yakima is a charter member of the Yakima Basin Integrated Plan, and we are interested in making sure our valley has adequate supplies of water for all our needs—agricultural, urban, and industrial.
David Brown is the assistant public works director and manager the Water/ Irrigation Division of the City of Yakima. He can be reached at david.brown@yakimawa.gov. For more about the Water/Irrigation Division, visit yakimawa.gov/services/water-irrigation/