The All Blacks, New Zealand's National Rugby Team, is world famous for its excellence and fighting spirit. One former All Black has brought that same passion to irrigated agriculture. Sam Broomhall works as a managing director for Think Water Canterbury, a family business that his father founded in 1981. For the last 4 years, Think Water Canterbury has been a dealer of Reinke irrigation equipment. In this interview, Mr. Broomhall tells us about his rugby career, his work at Think Water Canterbury, and the hard work that the two experiences have in common.
[siteorigin_widget class="SiteOrigin_Widget_Headline_Widget"][/siteorigin_widget]
Irrigation Leader: Please tell our readers about your background. How long has your family been in New Zealand, and how long have you been associated with irrigation?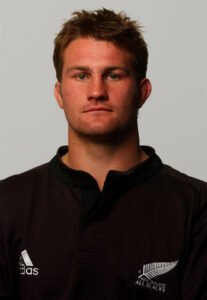 Sam Broomhall: I was born in and grew up in New Zealand. Our family ancestry is Scottish, but my mother and father were both born in New Zealand, so we have been here for a long time. My association and involvement in the irrigation industry dates to the foundation of our business in 1981, 40 years ago.
Irrigation Leader: How old were you when you started playing rugby?
Sam Broomhall: I was 8 or 9 years old. That sounds young, but now that is actually considered quite old, because we have young kids running around at ages 3 and 4 playing what we call rippa rugby. It's not full contact: They run around with little tags on the side of their hips and a big rugby ball almost as big as they are. They have rugby shorts that fall below the knees and socks coming up over the knees. There are more fans at some of those games than at some big games, to be honest. When I was a child, 8 or 9 was the earliest you could start, and I was just fine.
Irrigation Leader: For our U.S. audience, which may be unfamiliar with your career, please tell us about your time playing rugby.
Sam Broomhall: I grew up in a town called Leeston, with a population of about 1,500. I'm not sure how it is in the United States, but we have area-representative teams that combine to cover a wider area, in this case Canterbury. I played for a lot of representative teams when I was young, but I didn't quite make any national or major teams. I played for my university for a couple of years, then came back to Canterbury to work for my dad's company. There, I had a good amount of flexibility to train for rugby. I put my energy and passion into rugby, which was appreciated. I then played with the Canterbury side in the National Provincial Championship competition for 6 years. Following this, I played with the Canterbury Crusaders for 5 or 6 years. We were very successful. We won the super rugby championship three times while I was playing. That is an international competition among Australia, New Zealand, and several other teams. In 2002, I was selected for the All Blacks and played games against South Africa, England, France, and Wales. It all happens very quickly: Before you know it, you are standing in front of 80,000–90,000 people and singing the national anthem with players you have idolized! It's just what happens. You get the momentum to build, and then you're just on a roller coaster to where you end up. 
Irrigation Leader: What was it like to be selected as a member of the All Blacks? 
Sam Broomhall: When I started with the Crusaders, it was a very professional environment. Training was like a job. To be honest, everybody wanted to be in the All Blacks. When you are 8, 9, or 10, it's a dream, but when you get to a point where you get selected, it's amazing. Only after being out of the game for 10–15 years can you look back and understand the level of achievement it represented. It was pretty amazing at the time to be selected to be a part of that crew. 
Irrigation Leader: Who was the first person you called? 
Sam Broomhall: I got called on a Saturday night by the All Blacks manager. My wife was next to me, so she found out pretty quickly, and my mom and dad heard not long after. 
Irrigation Leader: What did you enjoy most about the game? 
Sam Broomhall: Especially in that professional environment, you become close with your teammates as you go through a lot of training and hard work. It was an enjoyable and rewarding group, as we were all striving to get better. I enjoyed the physicality of the game. I played in the forwards, which is the area in which there is always more contact, tackling, and running with the ball. The technical side of the game was something I also really enjoyed. The position I played was No. 8, so I was often in on the strategy part of decisionmaking and making calls on the field with other key team members. 
Irrigation Leader: Do you have a most cherished memory of your rugby career? 
Sam Broomhall: I've had too many head knocks to remember! There's a couple of things that stand out. One was representing the All Blacks in 2002 at Twickenham Stadium in London, which is the home of rugby in England. Fans there are so passionate. In New Zealand, we're not great spectators. When you go overseas, get to experience the singing, and get to stand in front to sing the national anthem, it is just an awesome experience. Another special memory was being part of the Canterbury team that won the Ranfurly Shield, a famous rugby trophy in New Zealand with a massive history. 
Irrigation Leader: Please tell us about the history of the business that your father started. Has it always been called Think Water Canterbury?
Sam Broomhall: My dad is self made. He grew up in a large family with nine children. He grew up in a state house. That is just how it was; there is nothing wrong with it. He just worked hard and took some opportunities, and in 1981, he started this business. At the time, it was just pumps. He slowly built it up with really hard work, great service, and solutions that customers in the area needed for their water systems. A lot of that was on the back of developments in agriculture, as the dairy industry and agriculture in general expanded. The general area was expanding and still is, with people moving in and wanting water services. I worked for him from 1996 to 1999 on design and installation. Rugby then took over for about 8–10 years, and I came back in 2008, when my brother and I started to get really involved in the business. 
In 2010, we joined a group called Think Water, which is a franchise. We are still individually owned, but we bought into the franchise model. It has worked really well for getting exposure in Australia and New Zealand, and it gives us more buying power, which has been great for us. We have been able to see the business succeed and grow. When we joined the group in 2010, we had 10–11 staff. We are now at 35–40 staff and are still really focusing on the core of the family business, which is doing our work well and sticking to what we say we are going to do. We have not diverted from how the business started. 
Irrigation Leader: What types of irrigation services do you provide farmers? 
Sam Broomhall: A broad range, including the domestic pumping side, which is getting potable water to houses; submersible pumps; and stock water systems, which provide for cows and other animals on farms. We have a plumbing and drainage division as well. We fit out dairy sheds with washing systems and cleaning systems for the milk. We obviously also do irrigation systems and sprinklers— whatever is required on a farm. We do fully designed services, so when someone rings up wanting an irrigation system, we send out our design people and actually see what's best for that farm. 
Irrigation Leader: How long have you been associated with Reinke? 
Sam Broomhall: Reinke is relatively new to our business. We have been associated with Reinke for about 4 years. It's been going really well, and we've been really impressed with the product. The level of training and support they give is also impressive. That's one of the big things: When you go out and sell a product, often you are selling your reputation on the back of it. With Reinke, they back up what they say with wonderful products and training for the guys who install and service the equipment. This makes us confident that we are selling equipment that will work while also having the training and support for the teams who will maintain the product. 
Irrigation Leader: The Reinke family business has not forgotten service, that's for sure. 
Sam Broomhall: We are obviously halfway across the world from Reinke, but we do get the feeling of the kind of company Reinke is. We have had a couple of Reinke representatives come over, and the feeling is very much family, not corporate. Similarly, we often talk about having family values and corporate discipline. 
Irrigation Leader: Given your business and experience working with irrigating farmers, what should others without a connection to agriculture know about irrigation in New Zealand? 
Sam Broomhall: We have a sort of rural-urban divide, and for people in the cities, often the connection back to rural agriculture is not there, and our story is not always getting told. Where does the milk that people drink actually come from? Often there is a bit of a disconnect, though it's getting a lot better. 
The big thing irrigation provides, especially in Canterbury, is the protection of income and of the business of farmers. We do get rain in the winter and a little bit in the spring, but from October until the late spring, irrigation is used to supply grass for the cows and grow crops. A normal irrigation season lasts from late spring, which in New Zealand means October, until April. Without that, the farming industry would suffer. It's a massive part of New Zealand's economic footprint.
We need to be careful with what we do with our great natural resources. We get most of our surface water through rivers and groundwater through drilling bores. Farmers in the agriculture sector do look after the environment, though there is a misperception that they're just after profit. Everyone that I deal with wants to do things in the best, most efficient way. Sometimes it can take a bit of time to catch up on all the information and technology that is available at that time. We are always evolving, but I think we are doing really well in New Zealand. We've got good grass and a good climate. We always want to do better.
Irrigation Leader: Finally, what is your advice to young rugby players who aspire to be members of the All Blacks or the Black Ferns? 
Sam Broomhall: You have to love and enjoy the game or whatever it is you're doing in life. Then you must work hard. You can't expect things to fall in front of you. You have to go and work hard at it. 
Vince Bryan is a cofounder and the CEO of Whooshh Innovations. For more about Whooshh Innovations, visit www.whooshh.com.