Elephant Butte Irrigation District (EBID) has stewarded the surface water of New Mexico's portion of the Rio Grande Project for over 100 years. EBID services 6,700 farm members within 90,640 acres. As an essential business, EBID has had to find new ways to operate during the COVID‑19 pandemic. In this interview, EBID Treasurer- Manager Gary Esslinger tells Irrigation Leader about the challenges the district has faced and what it has changed in order to continue operations. 
[siteorigin_widget class="SiteOrigin_Widget_Headline_Widget"][/siteorigin_widget]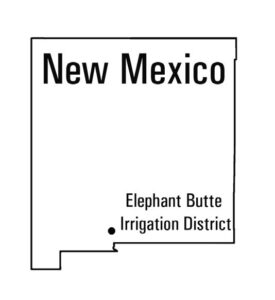 Irrigation Leader: Please tell us about yourself and about EBID. 
Gary Esslinger: I am the treasurer-manager of EBID and have been with the district for 40 years. I worked from the bottom of the totem pole to the top and have been manager for 33 years. Our district has 90,640 acres within the Rio Grande Project in New Mexico, and we service 6,700 farm members with our 300 miles of canals and 600 miles of drains. We've been doing this for 100 years now, and we've been blessed to serve the farmers in the Rincon and Mesilla Valleys. 
Irrigation Leader: How has the COVID‑19 pandemic affected your operation? 
Gary Esslinger: It's been interesting. We've had to learn to do the same things that we've always done, but without the close working relationship that we usually have with the board of directors, staff, employees, and farmers. Meetings are no longer in person. We do our board meetings through GoToMeeting, GoToWebinar, or Zoom. That is certainly new for a lot of us, especially for our board members, who would rather eat a doughnut, meet face to face, and get on with business. However, we're still getting things done, and we're keenly focused on keeping both our workforce and our board healthy and safe. 
We closed our doors to the public early in March, before the pandemic got as bad as it is now, and began developing policies and guidelines for employee safety. We're 100 percent operational, and none of our employees have tested positive for COVID‑19. We're doing everything we can to keep them safe. As of now, we're following just about every guideline; we've even developed two policies in house that have been approved and presented to our employees.
New Mexico has not completely flattened the curve; there are still positive tests happening in Doña Ana County, but not as many as in other parts of the state, so we're hoping that we've got it somewhat contained here. The question now is how we will adjust when the restrictions imposed by the Centers for Disease Control and the governor are lifted and people begin going back to work. We're already looking at things we might have to do to make sure that we're safe when we come back to work at our headquarters office and start doing business again with the public.
We're listed as an essential business in New Mexico, so we've got letters from the governor as well as Brenda Burman, the commissioner of the Bureau of Reclamation, that we keep in our vehicles. We've been questioned about why we are working and have used those letters to demonstrate the importance of our service to the farmers. We've got to keep our farmers growing food and fiber so that this nation will not run out of food like it's run out of toilet paper.
Irrigation Leader: What is the most innovative thing you've done to maintain your workflow? 
Gary Esslinger: We haven't really done anything innovative other than using the latest technology. We have younger people at the district who have helped us set up Zoom and other conferencing apps. Instead of a Baby Boomer, I'm now a self-proclaimed Baby Zoomer! It's fascinating how you can meet with people face to face from across the country with this latest technology. This could be the wave of the future. 
Irrigation Leader: Do you expect any of the changes you have made to be retained after the pandemic is over?
Gary Esslinger: It is easy to take employee safety for granted if you're not on top of it. Of course, we always put safety first, but this virus has really emphasized the importance of cleanliness and good hygiene. 
Our governor has stated that she may not be lifting the guidelines and constraints until May 15, so we are still experiencing uncertainty. The water season will begin in the Mesilla Valley on May 18. We've already started irrigation season in Hatch, and everything's going well up there. We are sharing vehicles, but the men are instructed to clean the vehicles when they come on shift and when they leave. We've stopped sharing phones and computers and have tried to prevent employees coming in close contact by socially distancing and wearing face coverings. I think those kinds of things will become normal operational procedure. 
Our governor has hinted that even after some restrictions are lifted on May 15, we may find ourselves wearing masks and gloves all the time and maybe even doing thermometer checks for people coming into work if necessary. It seems to me that this opens up a number of legal issues. If the state government is going to make these rules, they're going to have to look at human resources and HIPAA regulations and Americans with Disabilities Act (ADA) rules. Generally, we avoid asking employees whether they are sick because of the risk of violating HIPAA. If we are required to do things like this because of COVID‑19, there may need to be alterations to HIPAA and the ADA. We're going to do what we've been doing, follow the guidelines as best we can, and try to foresee what might be coming and prepare for it.
Irrigation Leader: Do you have any advice for other irrigation districts?
Gary Esslinger: We need to keep up with the changing times. This virus certainly shook us all up, but irrigation districts are always having to adapt. With change comes new ideas, innovations, and creativity. It's a challenge, but I believe that we in this industry can live up to it. Right now, we're dealing with another crisis called drought, and we're having to make changes all the time to adjust to that. Even though we've been blessed with an abundance of water in our reservoir this year, we didn't get any snowmelt to replenish it, and by the end of the summer, we're going to be back to dealing with an empty reservoir. The best advice I can give to other districts is to be adaptive, be ready, and react to change in a proactive rather than a reactive manner. 
Gary Esslinger is the treasurer-manager of Elephant Butte Irrigation District in Las Cruces, New Mexico. He can be contacted at (575) 526‑6671.