Montana is renowned for the beauty of its land and the excellence of its agricultural production, from wheat and pulse crops to meat. That agricultural production, however, relies on water and the irrigation infrastructure that delivers it. From maintenance on century-old projects like the Milk River Project to proposed new ventures like the Fallon Flats Irrigation Project, Montanans know the importance of investment in the infrastructure that supports Montana's number 1 industry, agriculture. To learn more about the efforts that the state is making to support irrigated agriculture, Mike Murphy, the executive director of the Montana Water Resources Association and the contributing editor of the Montana edition of Irrigation Leader, interviewed Greg Gianforte, who has served as Montana's governor since January 2021. 
[siteorigin_widget class="SiteOrigin_Widget_Headline_Widget"][/siteorigin_widget]
Mike Murphy: Governor, please tell our readers about your views on the value of irrigated agriculture to the state of Montana. 
Governor Gianforte: It's appropriate that we're talking about this during Ag Week. We'll be out with producers all over the state this week. Water is the lifeblood of production. Especially in arid climates like ours, you need water for production, and it was irrigation development that led many folks to settle here in the early 1900s. With ag being the number 1 industry in the state, it's critical to make sure we get water on the ground. 
Mike Murphy: What can you tell us about the investments the State of Montana has made in irrigation, including, for example, renewable resource development grants and American Rescue Plan Act (ARPA) programs? 
Governor Gianforte: Well, we've made irrigation a real priority. We're committed to making strategic and long-term investments in irrigation projects, which we're doing through the ARPA process. We allocated $10 million of ARPA funds to irrigation projects, and the vetting process for those projects is currently underway. In addition, House Bill 632 authorized minimum allocation grants that can also be used to fund irrigation projects. I would urge any producers who want to pursue projects to make sure they're in touch with the Department of Natural Resources and Conservation (DNRC). Director Amanda Kaster has an open door. We'd love to work with producers to figure out how to expand and upgrade our irrigation projects. Too many of our irrigation projects are getting a little long in the tooth, so we need some upgrades. 
Mike Murphy: It has been great working with Director Kaster. This past year, you toured the proposed site of the Fallon Flats Irrigation Project with Mr. Dennis Teske. What are your thoughts on that proposed project and on the prospects for additional new irrigation development in Montana? 
Governor Gianforte: I did enjoy getting on the ground up there. As I always say, the truth doesn't live in Helena, which is why I've made it a priority to get out and visit with Montanans in all 56 of our counties. This week, for instance, I'll be in Glendive, Terry, Ekalaka, Miles City, and Billings, mostly with ag producers. We have a lot of water in the state. It just happens to be in the Missouri or Yellowstone Rivers, and most of it leaves the state. We have adjacent benchland that is very fertile—it just needs water. I think there are some unique opportunities here, though you have to look at the economics of each particular case. I encourage landowners to work with DNRC to find projects that we can pencil out. 
Mike Murphy: Some of the biggest efforts and the greatest hurdles when it comes to infrastructure in Montana have been in the Hi-Line area. What are your thoughts on the efforts of the St. Mary Rehabilitation Working Group, the prospects for the rehabilitation of the Milk River Project, and the effects on the Hi-Line? 
Governor Gianforte: I said many times when I was in Congress that I thought rebuilding the Milk River Project is probably the number 1 infrastructure project in the entire state. We know its importance. It provides water for the whole Hi-Line. Eighteen thousand residents rely on it for domestic water. It also irrigates about 140,000 acres. We know that the Milk River would go dry 6 out of 10 years if we didn't have that diversion. That's why I'm really pleased that Lieutenant Governor Juras is working with the group there. I was up there for the ribbon cutting for Drop 5 after it was completely replaced. We need to completely rebuild the project so that the Hi-Line can continue to thrive. 
Mike Murphy: That's important not only to the Hi-Line but to the economics of the state of Montana. What are your thoughts regarding the Lower Yellowstone Intake Diversion Project, which stands to be a win-win for irrigators and for fisheries of the pallid sturgeon and other species? 
Governor Gianforte: I've been out there and toured that project a number of times. It's a great project, as you mentioned, both for irrigators, who grow sugar beets and other crops, and for the pallid sturgeon. Farming is conservation, and it's great that we can bring these two things together on one project. 
Mike Murphy: What are your thoughts regarding the current dry conditions and the efforts of the Drought Task Force? 
Governor Gianforte: I'll keep praying for rain. It's dry out there. We saw some crop failures this past summer, particularly along the Hi-Line and in the eastern portions of the state. I was down in Broadus—they had it really rough. We saw grasshopper infestations south of Malta and in other areas. Up in the northeastern corner of the state, there were in certain cases 100 percent crop failures. You can't have a lot of years like that strung together. We've had a really mild winter. This is the time of the year when it should be raining and snowing. Snowpack is at 80 percent down in the Bozeman area, but we still have time to get more. Given the longer, drier summers we've been seeing, we knew it was time to take a look at the state's drought plan, which was last updated in 1995. Drought is affecting everyone, from anglers to foresters to ag producers, and I appreciate the work of the Drought Task Force to plan for the future and increase our preparedness statewide. 
Mike Murphy: I've got to admit, the weather has been nice for calving, but we're going to pay the price if we don't get the moisture. Governor, you have initiated efforts to cut unnecessary regulation and undertake a thorough review of, for example, the programs and future direction of the DNRC as we move closer to completion of the water rights adjudication program. What are your thoughts on how those efforts are going? 
Governor Gianforte: We're making great progress. Again, I will commend Director Kaster of the DNRC. We now have a completely transparent water permit process. It's actually visible on the website. Previously, we were not treating farmers properly in the way we were processing permits. We're changing that. We've brought more of a culture of customer service and transparency to the process. We were forcing water permit applicants to waive their rights to a timely response. We've stopped that practice. There's more to be done as the Red Tape Relief Task Force conducts a top-to-bottom review of regulations, but I'm encouraged by the progress we've made.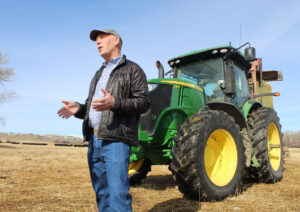 Mike Murphy: I think the comprehensive review process has been an excellent opportunity to prepare for the future. I appreciate the opportunity to sit on the post-final-decree transition study committee. 
Governor Gianforte: I think that at this point, since taking office, I've made close to 700 appointments to various boards. People ask me, "Greg, what do you want me to do?" I say, "Just bring a whole bucket of common sense, and do the right thing." 
Mike Murphy: Governor, what is your message to Congress about the importance of irrigation and water to Montana and the effects of decisions regarding issues such as the Waters of the United States (WOTUS)? 
Governor Gianforte: The current administration has made a zombie of the Obama-era WOTUS rule, to the detriment of our farmers and ranchers. I'm very concerned about the confiscation of property rights that would result from this WOTUS zombie. I'm also concerned about the Biden administration's 30 by 30 plan, which would essentially put 30 percent of American acres under conservation by the year 2030. That's five times the size of Montana. This is not going to be good for our ag producers, our recreationalists, or the health of our forests. This is why, just recently, I sent a letter to the Biden administration to opt out of this fishing expedition. Our farmers and ranchers have been taking great care of the land for generations, and I trust them to continue to be good stewards of our lands and waters. We don't need the feds sticking their noses in here. It's also a violation of the 10th Amendment—there's nothing in our constitution that says the feds are responsible for land use practices within states. 
Mike Murphy: As we celebrate Ag Week in Montana, what are your overall thoughts regarding importance of agriculture? 
Governor Gianforte: Well, I was pleased to proclaim this week to be Ag Week, and I proclaimed yesterday to be Meat Day, which I celebrated by having a nice steak. The reality is that every day is Meat Day in Montana. I'm looking forward to getting out, speaking with some of our producers, and seeing the great work they're doing. We're going to continue a strategy at the Department of Agriculture focused on value-added ag, because the Montana brand doesn't get preserved through the supply chain, whether we're talking about pulse crops, grains, or beef. I was really pleased to see that the amount of beef processed in state-inspected facilities has doubled compared to the last year. That's progress in the right direction. We also announced that state-inspected plants are now able to ship beef anywhere in the country, which is a great expansion in processing that allows us to break the monopoly in the packaging industry. Ag is our number 1 industry, and I'm thrilled to be celebrating that this week. 
Mike Murphy: Is there anything you would like to add? 
Governor Gianforte: Later today, I'm convening an ag roundtable. I did this during last year's Ag Week, too, and many people said it was the first time they had ever been in the room together. Last year, the group included grain growers, pulse crop growers, sugar beet growers, stock growers, cattlemen, and the Farm Bureau. We're going to do that again today. I think you can get a lot more done when you have relationships and dialogue, so I'm excited to convene the meeting. 
Greg Gianforte is the governor of Montana. He can be contacted at (406) 444‑3111 or governor@mt.gov.