Potatoes are one of Washington State's top crops. Grown primarily in central Washington with Columbia River that point, potatoes are directly dependent on irrigation infrastructure and technology. The cultivation and processing Potato provides 36,000 jobs to Washington State. Growers and worked there for about 3 years. The Washington State Potato Commission is the industry association responsible for promoting research into potato cultivation, advocating with state and federal agencies, and marketing potatoes.
In this interview, Chris Voigt, the director of the Washington State Potato Commission, speaks with Irrigation Leader Editor-in-Chief Kris Polly about potatoes' economic and nutritional importance—and the time he ate nothing but potatoes for 60 days!
[siteorigin_widget class="SiteOrigin_Widget_Headline_Widget"][/siteorigin_widget]
Kris Polly: Please tell us about your background and how you came to be in your current position.
Chris Voigt: I studied at Oregon State University and started out in the agricultural chemical business. I worked for two different companies, starting out in the New Jersey headquarters of one company and also working in South Carolina, Arizona, and California. Eventually, I stumbled upon a great job with the National Potato Promotion Board, which is the national organization for promoting potatoes—a sort of industry liaison or industry spokesperson. I did that for about 6 years. In the meantime, I met my wife at a potato meeting, and we fell in love, decided to get married, and started a family. At that point, I didn't want to travel quite as much as I had to for the national organization, so I moved to the Colorado Potato Growers and worked there for about 3 years. I really enjoyed working with the growers in the San Luis Valley of Colorado, but because my wife's and my parents lived in the Northwest and were getting up there in age, I applied for a position with the Washington State Potato Commission. I have been here for the last 14 years.
Kris Polly: Please tell us about the Washington State Potato Commission.
Chris Voigt: It is a quasigovernmental agency and was started in 1956. We are involved in anything that affects the potato growers of Washington. Our main three issues form what we call a three-legged stool. One leg is research. We invest in potato production research and nutrition research. We spend most of our resources figuring out how to produce higher yields, grow higher-quality crops, and use fewer resources.
The second leg of the stool is government affairs. We are heavily involved in legislative and regulatory issues on a wide range of issues, including trucking, transportation, rail, ocean marine carriers, food safety issues, the farm bill, agricultural research, and trade promotion. That involves working with the Food and Drug Administration and the U.S. Department of Agriculture (USDA). We also work with the state legislature on a whole gamut of issues, including those related to water, pesticides, and fertilizer.
The third leg of the stool is marketing and public relations. Washington State's potato industry is distinctive in that 90 percent of the potatoes that we grow are used
as ingredients. They end up in McDonald's French fries cartons or in boxes of instant mashed potatoes or scalloped potatoes. That means that it doesn't make a lot of sense
to spend a lot of money branding Washington potatoes. Instead, we focus on telling the story of agriculture to the public. We produce a TV show called Washington Grownthat highlights a different agricultural commodity each week. It's an agricultural show disguised as a food show. It starts out in a trendy restaurant in Seattle or Spokane with a chef who walks us through how to prepare something. Then, we go back to the farm to interview the farmer and learn about the heritage of the farm, the technologies they employ, and some of the challenges they face. We might also feature a nutritionist or researcher. We actually won an Emmy a few years ago, and viewership keeps growing.
We also do potato promotions. One of the big things we're doing right now is getting involved in athletic events. Endurance athletes like long-distance bike riders, marathon runners, and triathletes are heavily focused on nutrition. We find that a significant number of them rely on potatoes, even during competitions. It is not unusual
to see marathon runners or cyclists carrying potatoes or potato wedges with them instead of an energy gel made in a factory. Potatoes provide a lot of vitamins, minerals, and carbohydrates.
Kris Polly: Is the organization funded by the government or by members?
Chris Voigt: We are funded exclusively by our members. Every potato grower in the state is assessed $0.04 for every 100 pounds of potatoes they grow. That amounts to about $3.5 million of total funding. We receive no government funding.
Kris Polly: Would you give us a sense of the scale of potato farming in Washington State?
Chris Voigt: Apples are the number 1 crop in Washington, followed by dairy. Potatoes and wheat compete for number 3. As I mentioned, 90 percent of the potatoes grown in Washington are processed, mostly within the state. There are 10 processing facilities that take our potatoes, including frozen French fry manufacturers, dehydrators that make instant mashed potatoes, and potato chip companies. That creates a lot of jobs in rural areas. We export about 70 percent of what we grow. A recent economic study done by Washington State University showed that the potato industry creates about $7.5 billion worth of economic activity in the state of Washington. There are over 36,000 jobs associated with growing, processing, and selling potatoes.
Kris Polly: In what areas are potatoes farmed?
Chris Voigt: About 90 percent of the potatoes are grown
in central Washington, specifically in the Columbia basin. The federal Reclamation projects in the Columbia basin are critical to what we do. The other 10 percent are grown about 11⁄2 hours' drive north of Seattle in the Skagit Valley. The Skagit Valley grows mostly red and yellow potatoes, while the Columbia basin grows mostly russet potatoes. In total, there are 165,000 acres of potatoes in Washington State, and the state has the highest yields in the world.
Kris Polly: How are the potatoes grown and irrigated?
Chris Voigt: The bulk of planting generally happens from mid-March through the end of April. Early potatoes start to be harvested around the second week of July, and we continue harvesting until the end of October. Because of the heavy presence of processing, we have to store a lot of potatoes. The early-season potatoes that are harvested in July, August, and September are usually delivered directly to the French fry plants. Pretty much everything we harvest in late September and October, which is the bulk of the crop, goes into storage and is used gradually through July of the following year. We usually run out of old crop in July, just in time for the new crop to be harvested.
Pretty much all the potatoes grown in central Washington in the Columbia Basin Project are under center-pivot irrigation. Pretty much everybody has converted from overhead impact sprinklers to low-pressure drop nozzles. Most of the water that is used is surface water from the Columbia River stored behind Grand Coulee Dam.
Kris Polly: What explains Washington's high yields?
Chris Voigt: Part of it is that we're lucky with our geography. We are located far enough north that we get a lot of solar radiation—we get a lot of sunlight and have long summer days—but it still cools off at night. That is exactly what potatoes love. We also have volcanic soil that is perfect for growing potatoes.
Another huge advantage for us is irrigation. The bulk of our potatoes are grown in a desert. We typically get about 7 inches of precipitation a year. We're lucky to have this great supply of surface water in the Columbia River, and we can apply it exactly when the plants need it and in the exact quantity they need. That allows us to be really efficient in our use of water. It also helps us avoid overwatering. Too much moisture can be a problem in potatoes. It is conducive to all sorts of different diseases. The fungus that causes late blight, which caused the Irish potato famine, is alive and well throughout the world, including in Washington State. But it doesn't take off because we are able to control our moisture.
Kris Polly: Would you tell us about the trends you see today, especially when it comes to demand and export?
Chris Voigt: We all thought that 1997 was the peak for potato demand, production, and consumption. That's when we had value meals and French fries were served with every value meal. Then along came the Atkins diet and other high-protein, low-carb diets. They really affected the industry. Demand for both fresh and processed potatoes declined gradually from 1997 on. However, we've seen a big uptick in demand over the last 3–4 years. I think people are realizing that French fries aren't actually made with trans fats, but are cooked with healthy oils. Restaurants have also started having fun with potatoes and making poutine, gravy-covered French fries with cheese, or chili-cheese French fries. Then McDonald's came out with all-day breakfast and started selling a lot of hash brown patties. Demand has really gone up.
Particularly in Washington State, demand is particularly high in export markets. The domestic market has been growing at roughly 1–2 percent a year for the last few years, but internationally, demand has been growing at about 7 percent for the last 8 years. For the last several years, we haven't been able to keep up with demand—we physically cannot produce enough potatoes. We have also exhausted our supply of irrigated land in Washington State. The only way to meet the demand of our foreign customers is to figure out how to get more water out of the Columbia River, get it out to the dry land in a cost effective manner, and start irrigating on new ground, or else to figure out how we can grow more potatoes on existing ground.
The research leg of our stool at the Potato Commission also involves investing heavily in soil health. Are there ways that we can manage our soils differently to boost yields? Yields have been flat for almost 15 years.
Kris Polly: Is the Potato Commission involved in advocating for expanding irrigation?
Chris Voigt: Absolutely. We were in Washington, DC, recently, working on research and water issues with our state's congressional delegation and the USDA. There is a region called the Odessa subarea where some deep wells are going dry. We've been working closely with our state legislature and the federal government to secure funding to get some surface water out there and shut those wells off. We've actually lost a lot of potato production there and hope that surface water will get the potatoes growing again.
Kris Polly: I've heard you went on an all-potato diet. Would you tell us a little more about that?
Chris Voigt: You may have heard of the USDA's Special Supplemental Nutrition Program for Women, Infants, and Children, known as the WIC program. It is a supplement to food stamps, an extra $10 or $15 a month that is intended to help pregnant and breastfeeding mothers and mothers with young children buy healthy, nutritious food items. In 2010, the USDA came up with a rule that WIC dollars could now be used to buy fruits and vegetables—all fruits and vegetables except potatoes. The report that they based that decision on said that the WIC population was deficient in vitamin C, fiber, potassium, and vitamin A.
The fruits and vegetables were intended to cover those nutritional deficiencies. But if potatoes had nutritional labels, they would show that potatoes have more potassium than bananas. A potato also has about half of your daily requirement of vitamin C and is a great source of fiber. It was a crazy rule that nobody really understood. It seemed like the USDA thought that since potatoes were cheap, WIC recipients could already afford them, and it wanted to encourage them to buy broccoli, kale, or other underserved vegetables.
We contacted our congressional delegation and the USDA and told them how crazy this rule was, but nothing was really working. I was watching a lot of MythBusters at the time and decided to prove how nutritious potatoes are. The only way to do that is to eat potatoes—nothing but potatoes, and nothing on them. No gravy, no sour cream, no butter—literally just potatoes. I ate nothing but potatoes for 60 days to prove that they are so nutritious that you can literally live off of them. My experiment went viral: I think I ended up doing over 300 interviews, including in 14 different countries. Ireland, of course, was the first country that wanted to interview me about my potato diet.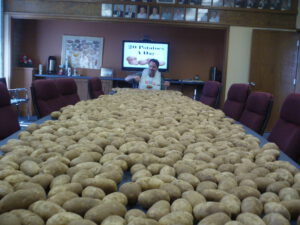 I was hoping just to be alive at the end of 60 days, but I actually got healthier. I did a prediet physical, one halfway through the 60 days, and one at the end. My final physical showed that even though I was eating 2,200 calories' worth of potatoes a day, I lost 21 pounds, my blood sugar came down, and my protein level, calcium level, iron level, and all my other blood chemistry indicators improved or stayed the same. My cholesterol dropped 67 points. I knew that potatoes were nutritious, but I had no idea that they would make me healthier.
Kris Polly: Were you successful in changing the WIC regulation?
Chris Voigt: Eventually, Congress intervened and made the USDA and the Institute of Medicine redo their study. A year later, the Institute of Medicine said that it had gotten it wrong and that potatoes would meet the nutritional deficiencies of the WIC population. I can't take complete credit for that change, but I may have given it some momentum.
Chris Voigt is the director of the Washington State Potato Commission. He can be contacted at cvoigt@potatoes.com. For more information on the Washington State Potato Commission, visit www.potatoes.com.