HydroSide Systems has developed an innovative and award-winning technology for moving wheel lines, traveling guns, boom systems, and other traveling irrigation units. It aims to replace labor-intensive movers with a water-powered hydroelectric system, making irrigation units self-powered and autonomous. In this interview, HydroSide Founder and CEO Dana Mohr tells Irrigation Leader about how the company's technology works and the benefits it can bring to irrigators. 
[siteorigin_widget class="SiteOrigin_Widget_Headline_Widget"][/siteorigin_widget]
Irrigation Leader: Please tell us about your background and how you came to be in your current position. 
Dana Mohr: My background is tied to blue-collar industry and construction, so I very much relate to the hard work that goes into farming and agriculture. I was also blessed to marry into a Montana family with strong ties to agriculture. My wife, Sharon, and I first lived near Denver, Colorado, and eventually moved to Coeur d'Alene in northern Idaho to be closer to family. 
Around 8 years ago, my brother-in-law was responsible for managing several wheel lines in the Bitterroot Valley of Montana. The work involved walking through a field; manually starting a motor; and disconnecting, draining, and moving the system 60 feet from one irrigation set to another every 12–24 hours. He had to do this all the way across a 40‑acre field. The labor-intensive nature of the process seemed resource draining for farmers and farmhands alike. Discussing this problem with him planted the seed for what would eventually become HydroSide; it sprouted in 2017 with a potential solution. 
Our idea zeroed in on moving the irrigation system with power generated by the water itself rather than by a gas-powered motor. We bounced the idea around with a variety of engineers who said they believed it could work. My wife and I found an investor and a developer, and HydroSide was born. 
We created a product that could not only fully automate wheel-line systems, but could also be applied to other traveling irrigation systems, including traveling guns and traveling booms. It had great marketing potential and was promising from a business-case perspective. On top of it all, we had done plenty of research, and our system was patentable. We are now patent pending in the United States, Canada, the European Union, and Australia and have received positive review from the World International Patent Organization.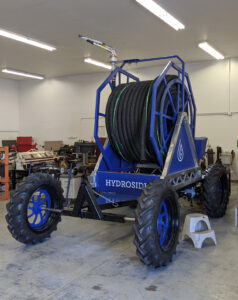 Last year, recognizing the importance of securing industry credibility, we entered the HydroSide system in the American Farm Bureau Federation's (AFBF) 6th Annual Farm Bureau Innovation Challenge. In the fall, we learned that we had been named a top 10 finalist. At the AFBF annual meeting in January, HydroSide won a 3‑day competition against teams from across the United States. We couldn't believe it when we were named the 2020 Farm Bureau Entrepreneur of the Year. 
We are now within about 2 months of initiating intensive third-party field testing of the autonomous traveling gun, which is the first of the three systems we plan to manufacture.
Irrigation Leader: Please tell us about the basic innovation that HydroSide has developed.
Dana Mohr: Our original idea was to figure out how to make wheel lines more efficient. We thought of a way to pull a drag line along with a wheel line as it moved from set to set. That way, a farmer would only need to do 3–5 set changes to cover a 40‑acre field. In field testing, we came up against the reality that dragging a hose through a field is difficult, even if it only weighs 800–1,000 pounds. Next, we looked at the option of carrying the hose along with us. That led to the birth of our new design, which is essentially a mobilized hose reel platform. We then automated other forms of traveling irrigation using the same base unit. 
A traditional hose reel is towed to an irrigation site behind a truck. Once positioned, an irrigation cart is attached to the hose, and a tractor pulls the cart and drags the hose a set distance down the field. The farmer then fires up the hose reel and it pulls the irrigation cart back to the hose reel while it irrigates. It's kind of like casting a line out with a fishing rod and slowly reeling the lure back in, but in this case the irrigation cart is sent out and then slowly pulled back to the hose reel as it irrigates. Our approach differs because we mobilize the hose reel itself so that it can travel down the length of the field and back, spooling out the hose and then picking it back up as it returns. This eliminates the need for the farmer to repeatedly conduct manual hose pulls to prep the irrigation cart for another run. Our system is a one‑to-one replacement for a hose-reel irrigation setup and is fully autonomous, meaning that you can now automate traveling guns and traveling booms as well. 
With respect to wheel lines, we pair our base traveling hose reel with another small mover that is located about two-thirds of the way down wheel line and then we sequence the movements of the hose reel and the smaller mover. This allows the wheel line to move autonomously across the field for each set. Our system also wirelessly controls the water flow so that the line drains—a critical step—before it moves to the next set and then turns itself back on.
The beauty of the system is that it is versatile enough to work with different crop types. If a farmer wants to grow turf or forage on a 40‑acre square, they might want to use a hose reel in a wheel line orientation in order to put the water down slowly and achieve a good depth of saturation. If the farmer later wants to plant a taller crop, such as corn, which is too tall for a wheel line, the same hose reel, with the switch of a few fittings, could operate as a traveling gun. We believe that the modular nature of these products is a game changer for farmers who want to grow different crops on the same land without buying additional irrigation systems.
Irrigation Leader: What are the advantages of the HydroSide system over other irrigation systems?
Dana Mohr: The challenge with traditional wheel lines is that they're labor intensive. Also, farmers typically only have time to move them every 12 hours or so, even though the soil and crop type might benefit from a shorter watering schedule, with the units moved every 7 hours. The HydroSide system can be set for 4, 6, or 8 hours, or whatever would be best suited for the soil structure and crop.
Traveling guns and booms can be great for oddly shaped fields, tall crops, and tough terrain, but they are also labor intensive and susceptible to waste through overwatering, wind drift, evaporation, and runoff. With our system, a farmer can adjust the watering as it drives, or it can be done remotely based on topography or environmental conditions. The farmer can speed up the system's set times so that it puts down progressively less water as it gets to the bottom of a slope, for instance, minimizing runoff and overwatering. 
Irrigation Leader: How does the HydroSide system use technology to the advantage of its customers? 
Dana Mohr: Our system is unique because it can bring precision technology to legacy irrigation systems, like wheel lines, or can be a standalone precision irrigation system when set up as a traveling gun or boom. The HydroSide system allows farmers to monitor the positioning of their units, their general operational and functional data, and real-time water consumption information from their phones or computers. Our system also proactively communicates with farmers if it senses events like a drop or spike in pressure that could indicating a leak or blockage. We can adjust watering based on the orientation and topography of the field along with the demands of the crop, the soil structure, and environmental conditions. By putting water down exactly where it is needed or at a rate that the topography can handle, we avoid waste and can help increase yield, all while saving on labor costs. We project that our systems can reduce such waste by as much as 70 percent, and this fall we will be doing research with Fresno State to test this assumption. 
Irrigation Leader: How does your system move itself? 
Dana Mohr: Since we're pretty far along in the patent process, I can share a little bit about how we generate the power to move the irrigation system. The simple answer is that the unit is powered with hydroelectric technology: Water comes into the system and runs through an inline turbine, powering an alternator that converts and stores the power in onboard battery banks. The batteries, in turn, power the electric drive motors and the onboard navigation computer controls. It doesn't require an external power source, nor does it have the potential maintenance issues that accompany gas-product-powered engines. There are two drive motors on every unit, so even if there is a problem with one of them, the unit can limp along until a repair can be made. 
Irrigation Leader: What is the focus of HydroSide's marketing? 
Dana Mohr: Current data show that approximately 4 million acres in the United States are irrigated by travelers and wheel lines, and an incredible amount of acreage is covered by the technology abroad. In fact, hose reels are the preferred irrigation method in a large number of countries, including France, Italy, and all the Scandinavian countries. Nevertheless, during our initial market release this year, we are focusing on the inland Northwest. Of the 4 million acres that are covered by hose reels and wheel lines in the United States, 1.3 million are in Idaho, Montana, Oregon, and Washington. 
As we move into the trade show season in late 2020 and early 2021, we will have completed our hard testing, which will provide us with the confidence to do a far broader market release, which will include the rest of the United States, with an emphasis on high-density use areas, such as the Central Valley of California and the southeastern and mid-Atlantic states. Thereafter, we anticipate pushing to release in Australia during the early months of 2021, which is the growing season in the southern hemisphere. Canada will be a focus in 2021 as well; in fact, we've already had many Canadian growers reaching out to us and committing to orders for delivery in 2021. 
Irrigation Leader: What are the top concerns or issues confronting your customers? 
Dana Mohr: Throughout the development of the HydroSide system, we've interviewed growers to understand their challenges with legacy systems and what they would like systems like ours to be able to do. The growers we've interviewed across the inland Northwest consistently say that they need to irrigate on different schedules but simply don't have the time to move away from the longer traditional pulls and 12‑or 24‑hour sets. This has confirmed that our initial hypothesis was right on target. We are proud of the methodical approach we have taken in conducting this outreach. 
Throughout these conversations, we have found that growers are excited about trying the new product. We are answering that call by organizing a series of demo days that will take place throughout our immediate region this fall and in spring 2021. Thereafter, we'll repeat that on a more national level in the high-density usage areas I noted earlier. 
Irrigation Leader: What is your vision for the future of HydroSide Systems? 
Dana Mohr: We are fortunate to have developed a patentable technology with our HydroSide system, and we see the traveling irrigation niche as a starting point. Our vision for the next phase of our business is to begin focusing on linear lines so that we can service even larger acreages. The linear line is the fastest-growing form of large-scale irrigation in the United States, and our goal is to build a system that will use water as a power source, just as in our initial product lines. We recognize the importance of being adaptable, so as we move in this direction, we are conducting research into integrating precision chemigation and fertigation elements into our systems. 
Dana Mohr is the CEO of HydroSide Systems. He can be contacted at dana@hydroside.com or (208) 580‑4467.