Superintendent | Kansas Bostwick Irrigation District
Years working in irrigation: 10 
Years as manager: 5 
Number of employees: 12 
Size of service area in acres: 42,500 
Amount of water diverted for irrigation per year in acre-feet: 40,000–60,000 
Main crops irrigated: Alfalfa, corn, soybeans 
Predominant irrigation methods: Center pivot (75%), gated pipe (25%)
[siteorigin_widget class="SiteOrigin_Widget_Headline_Widget"][/siteorigin_widget]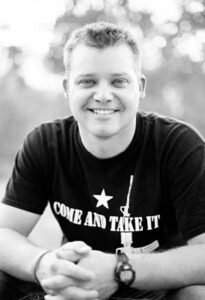 Irrigation Leader: What is the top issue facing your irrigation district today? 
Jared "Pete" Gile: As for all surface water irrigation districts, annual water supply and future water supply are always a concern, so continuing to improve our efficiencies every year with canal-to-pipe conversion projects or canal automation projects is important. Unfortunately, due to the dramatic increase in the price of pipe over the last 12–15 months and the lack of current available pipe supply from manufacturers, we have postponed one canal-to-pipeline conversion project that would have commenced within the 2022 calendar year. 
Irrigation Leader: What future issues are you preparing for? 
Jared "Pete" Gile: The one I'm not expecting. Like many districts, we have dealt with numerous significant issues that have been specific to our operation. A few that come to mind are the federal contract renewal process my predecessor, Kenny Nelson, devoted a lot of time to in the late 1990s; an extraordinary, and rather expensive, operation and maintenance project at one of our supply reservoirs; and now, a pandemic. My goal is to continue improving everything from our water use efficiencies to our day-to-day operations, with the hope that when the next issue arises, we'll be more prepared for it and have the time, energy, and resources it requires. 
Irrigation Leader: What are your top issues regarding personnel? 
Jared "Pete" Gile: We deliver irrigation water in Jewell and Republic Counties in north-central Kansas. The combined population of both counties is under 8,000. Finding quality candidates within a pool of potential applicants in an area with that small a population can be a challenge. 
Irrigation Leader: What training do you currently provide your employees? 
Jared "Pete" Gile: When we hire someone to be a ditch rider, I walk them through a basic, several-hour training on the concepts of delivering water via open canals and pipelines. However, there is no substitute for on-the-job training and ride-alongs with our more experienced ditch riders. We generally rely on training from senior employees. 
Irrigation Leader: How much do you spend on training each year? 
Jared "Pete" Gile: Almost all our training is done in house in an on-the-job fashion, so we don't really have a line item in our budget for employee training. 
Irrigation Leader: What kind of safety programs do you have in place? 
Jared "Pete" Gile: One of the main things we adhere to in terms of safety is working in small teams to accomplish almost every task. The more eyes, ears, and ideas we have on a particular project, the lower the likelihood of accidents or issues. 
Irrigation Leader: What is the most important thing you have learned as a manager? 
Jared "Pete" Gile: One of the most important things I've learned as a manager is to be willing to rely on those with more experience. In most cases, the problem or project I am facing has already been faced by other managers with more time in the business than I have. The same holds true for employees who have been here for many years. 
Irrigation Leader: What are the top skills needed to be a successful manager? 
Jared "Pete" Gile: Having good communication skills, whether with employees, board members, or the irrigators we serve, is important. So is being able to adapt quickly to solve a problem. Our most important job is delivering irrigation water promptly and efficiently, and our day-to-day operations can be fluid. 
Irrigation Leader: What is the best way to work with a board of directors? 
Jared "Pete" Gile: The board of directors/manager relationship requires a lot of trust from both parties, who ideally have the same overall goals. Open communication helps to foster an environment that leads to these goals being accomplished. For a manager, listening to the board members and trusting their combined experience as irrigators is key. 
Jared "Pete" Gile is the superintendent of the Kansas Bostwick Irrigation District. He can be contacted at ksbostwick@gmail.com.