Keri Johnston is the chair of Irrigation New Zealand (IrrigationNZ), a member-founded industry organization committed to representing the interests of New Zealand's irrigation sector and promoting best practices across the industry. In this interview, Ms. Johnston tells us about New Zealand irrigators' top issues and how IrrigationNZ advocates for them to the national government and in public fora. 
[siteorigin_widget class="SiteOrigin_Widget_Headline_Widget"][/siteorigin_widget]
Irrigation Leader: Please tell us about your background and how you came to be in your current position. 
Keri Johnston: I'm from South Canterbury, which is on the east coast of the South Island of New Zealand. I am farming here with my husband and two teenage daughters. We are sheep and beef farmers, with a little bit of irrigation that helps with feed security for our livestock. I am also an environmental engineer by trade and have my own consulting business, which I now run mostly from home. I was elected to the board of IrrigationNZ 5 years ago, and I am the current chair of the organization. 
Irrigation Leader: How long have you been running your consulting business? 
Keri Johnston: I started the business in 2007 with two others, and we've slowly grown to a team of 18. I wanted to still have a professional career, but it needed to fit around farming and having a family, so we had a work-from-home model far before the COVID‑19 pandemic made it common! 
Irrigation Leader: What are some of the projects that you work on as a consultant?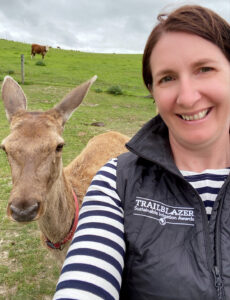 Keri Johnston: I spend a lot of time helping farmers and irrigators maneuver their way through our environmental regulations and helping them come up with solutions and see the opportunities that exist for our primary sector. We want farmers to be the best food and fiber producers that they can be and to make the optimum use of our water resources to do this. 
Irrigation Leader: Tell us about IrrigationNZ and your role as chair. 
Keri Johnston: IrrigationNZ is an advocacy organization that represents irrigators' interests to the New Zealand government. We try to make sure that the government recognizes the value of irrigation in New Zealand and its role in food production, and we communicate facts about how water is critically important in the climate change/resilience space, including in meeting our obligations related to greenhouse gas emission reduction targets. IrrigationNZ also sets the standards for the greater irrigation sector, and this creates a platform of integrity and accountability that we can then advocate from. We are committed to irrigating in the best way we can, acknowledging that water is a resource that is valued by all New Zealanders and that with its use comes a responsibility to do so well and to ensure that our environment is protected. A six-person board is responsible for the governance of the organization, and I am the chair. 
Irrigation Leader: What are the top issues facing irrigated agriculture in New Zealand today? 
Keri Johnston: We still face the perception that irrigation equals pollution, and we are working really hard to change that attitude. The government needs to understand irrigation and recognize its value for sustaining food production. In New Zealand, only 7 percent of our total land area is actually irrigated, but its contribution is much larger than this (20 percent of the country's agricultural and horticultural gross domestic product comes from land under irrigation). Irrigation also supports and grows our rural communities by creating jobs and ancillary businesses in those areas. 
Irrigation Leader: How has the pandemic affected irrigation?
Keri Johnston: It's affected it from an infrastructure point of view. The country is operating a lot more slowly at the moment. There's a lot of steel sitting around that needs to be on fields rather than in shipping containers. Overall, agriculture has been recognized as an essential service in New Zealand. To some extent, we've been able to carry on with our operations on a day-to-day basis, but the irrigation projects and infrastructure that are under development have certainly suffered labor shortages due to border restrictions. This has also created challenges for the primary sector. 
Irrigation Leader: How do you bring IrrigationNZ's message to the New Zealand government?
Keri Johnston: Advocacy is at the heart of what we do, so we have relocated IrrigationNZ to our capital, Wellington, to be closer to our regulatory decisionmakers. We've been working hard to get involved with government working groups to ensure we have a say in the policies that directly affect us. Water storage is something that the government recognizes is needed, but it is wary of anything bigger than what it is calling small scale. However, infrastructure projects need to be of a certain size to benefit from economies of scale, and there have got to be multiple benefits to these types of projects as well—water storage does not just support irrigators; it also provides community water supply and water for environmental purposes. Our aim is to highlight the message that irrigation is one part of the equation in building a thriving and resilient New Zealand—a necessary part, not only for now, but for future generations. We are now starting to get some traction on this conversation at a government level, and that's really good.
Irrigation Leader: How else does IrrigationNZ spread its message?
Keri Johnston: I recently traveled to support the Trailblazer Sustainable Irrigation Awards. We have some amazing and innovative irrigators whose stories need to be shared and celebrated. This all helps change the perception of irrigation. Irrigation done well is something that we need to be proud of. 
Irrigation Leader: What is your message to Parliament? What should its members know about IrrigationNZ?
Keri Johnston: Irrigation done well is essential for the future of New Zealand. Not only will it ensure food security for our own communities and increase our resilience to things like climate change, but it will enable us to add higher-value land use options to our production systems and help New Zealand stand out on the world stage as one of the most innovative, sustainable, and exceptional food and fiber producers in the world. Irrigated agriculture needs to be recognized as a valuable asset for New Zealand.
Irrigation Leader: Is there anything else that you'd like to add?
Keri Johnston: At the moment, IrrigationNZ as an organization is in a really good place. We've got a really good CEO at the helm; we've got a future-focused, innovative board that is not afraid of the challenges that are in front of us; and we can see some real opportunities for our sector. We're really passionate about what we do. 
Keri Johnston is the chair of Irrigation New Zealand. She can be contacted at chair@irrigationnz.co.nz or +64 027 220 2425.