Years working in irrigation: 40
Years as manager: 7
Number of employees: 2
Size of service area in acres: 17,000
Amount of water diverted for irrigation per year in acre-feet: 21,100
Main crops irrigated: Pasture crops for dairy farming, horticulture, feed crops 
Predominant irrigation methods: Spray, flood
[siteorigin_widget class="SiteOrigin_Widget_Headline_Widget"][/siteorigin_widget]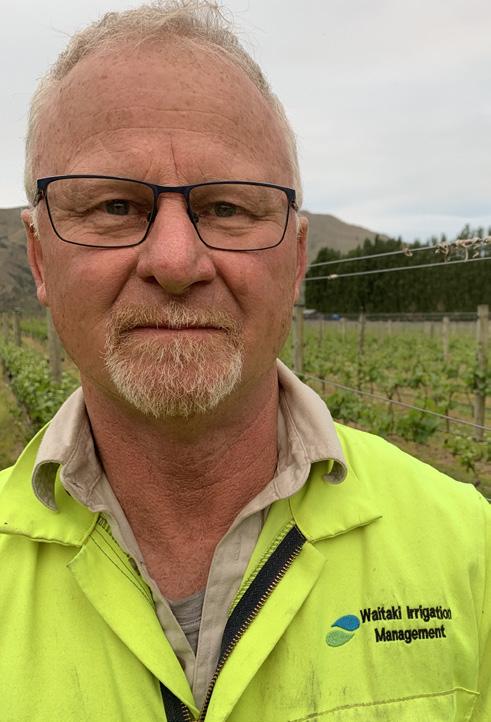 Irrigation Leader: What is the top issue facing your irrigation district today?
Murray Turner: Making a return on irrigation is probably the number 1 issue. Farmers pay NZ$500–800 (US$318–509) per hectare per year, which covers water and operational costs as well as scheme upgrades. Efficiency in the cost of upgrades to the schemes is important to keep farmers' fees down.
Irrigation Leader: What future issues are you preparing for? 
Murray Turner: Keeping the cost of irrigation affordable. Everything goes up once you start getting into pumping with electricity. Profitability is always a challenge, whatever crops you're growing. New Zealand is adopting a whole new set of national regulations concerning the efficient use of water. The biggest issue for farmers now is the regulation of the use of fertilizers. In particular, the national government and regional councils are concerned about the amount of nitrogen that is coming off the farms and are setting limits to what a farmer can apply. That adds a new set of challenges to profitability. 
Irrigation Leader: What are your top issues regarding personnel? 
Murray Turner: Health and safety is a major issue. There have been more stringent requirements in this country over the last few years regarding ensuring that your staff and workplace are safe and limiting liability. Repairs and maintenance will probably get easier as the schemes are piped, reducing the hazards that come with open channels. I don't have too many problems with personnel because my employees have been with me for 30-odd years. We work well together. 
Irrigation Leader: What training do you currently provide to your employees? 
Murray Turner: We do a lot of mandatory courses on health and safety; first aid; the Growsafe certification, which is the national qualification for buying, handling, and applying chemicals; and confined spaces training.
Irrigation Leader: How much do you spend on training for your employees each year?
Murray Turner: Around NZ$20,000 (US$12,728) a year total. 
Irrigation Leader: What is the most important thing you have learned as manager?
Murray Turner: How to deal with the multitude of farmers, farm workers, and their families. You've got to be calm and collected because a lot can happen. It's a 24-hour, 7-day-a-week job. I think that's probably the hardest thing. Pumps and irrigation don't stop at 5:00 at night or on the weekends. You've got to have people on call. It's quite taxing. When we close those schemes down for 3 months a year, we don't get the time off. Most of it is taken up by maintenance. 
Irrigation Leader: What are the top skills needed to be a successful manager? 
Murray Turner: You've got to be good at organization and coordination. You have to be reasonably savvy with technology. All these new systems are running off supervisory control and data acquisition systems and programmable logic controllers. There is a lot of computer work. It is much different from the old days of open channels, when you were just piping out siphons manually. Now it's high tech. You have to keep up-to-date with the industry. It's a lot of work. 
Murray Turner is managing director at Waitaki Irrigation Management Ltd., which manages Kurow-Duntroon Irrigation Company and Maerewhenua District Water Resource Company. He can be contacted at murray@rivert.co.nz or +64 274500625.