UPI Aquatics is an agrichemical manufacturing company with over 3,000 employees worldwide. It is perhaps best known to irrigators for its aquatic chemicals Cascade and Teton. In October of this year, Cory Greer joined UPI as an account representative with responsibility for all or part of nine western states. In this interview with Irrigation Leader Managing Editor Joshua Dill, Mr. Greer discusses his extensive prior experience, which includes working for the Natural Resources Conservation Service (NRCS) and the South Columbia Basin Irrigation District; the skills he brings to UPI; and what he hopes to accomplish in his new position.
[siteorigin_widget class="SiteOrigin_Widget_Headline_Widget"][/siteorigin_widget]
Joshua Dill: Please tell us about your personal and professional background and how it brought you to your new position.
Cory Greer: I was working in marketing and going to trade school here in the Tri-Cities in Washington State, but I didn't like the work very much, so I applied for a grant to go back to school. While I was studying for my bachelor's in environmental science at Washington State University (WSU), I started working with the biological systems engineering department as an undergraduate researcher, and they offered me a position to continue on with my master's. I got my master's in biological systems engineering, or ag engineering for short. My focus was on hydrology, specifically winter soil erosion.
After that, I worked for the NRCS, part of the U.S. Department of Agriculture, in Oregon and then in North Dakota. In Oregon, I spent most of my time working with irrigation districts on systems improvement, grant writing, compliance with U.S. Environmental Protection Agency (EPA) policy mandates, and things like that. Additionally, I worked with individual landowners—ranchers and farmers—on system upgrades to meet federal and state guidelines related to environmental issues. They would apply for grants through the NRCS and I would be, essentially, a free compliance officer and engineer. I did that in Oregon for 4 or 5 years, and then I moved on to North Dakota and worked there for just 2 years, again with the NRCS. While I was there, North Dakota had two of the top five floods in its history, so I started working in what they called emergency watershed protection. I worked on dam rehabilitation and dam monitoring. North Dakota has thousands of watershed dams just for flood retention. That was right when the housing market crashed, so I wasn't able to move my family out. I moved back to Idaho
and took a job with the NRCS there. I worked mostly out of the state office in Boise, on stream restoration projects and things like that, including a lot of Department of Environmental Quality–mandated projects and fish and game projects.
Later on, my family needed to move back to Washington State, and a project agronomist position opened with the South Columbia Basin Irrigation District. That position made use of a lot of the skills I had gained studying environmental science at WSU. I actually worked for the South Columbia Basin Irrigation District, Quincy-Columbia Irrigation District, and East Columbia Basin Irrigation District—the three major irrigation districts in the Bureau of Reclamation's Columbia River Project, which combined are in the 600,000–800,000-acre range. In that position, I was also responsible for the Bureau of Reclamation's scattered tracts. A lot of its terrestrial ground is in miscellaneous spots all over the project area. My office was in charge of terrestrial invasive or noxious weed reports and spraying activities. When I started working for the irrigation district, I was introduced to aquatic-vegetation management, a field I didn't know, even though I had worked with irrigation for nearly 17 years. I had no idea that irrigation districts in the western United States needed to spend so much money and work so diligently to control noxious and invasive species in waterways. I got a crash course in doing that. As project agronomist, I was in charge of all the aquatics for South District and was tasked with being the consultant for the other two districts, so if something odd came up, a chemical wasn't working properly, or they wanted to try something different, I was their assistant and would come over and troubleshoot and try to figure out different ways to use the herbicides.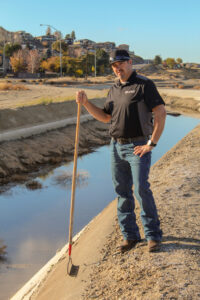 I have a research-oriented mind: I like to look for better, easier, and more efficient ways to use chemicals and to be diligent about the environment. So during my time at the South Columbia Basin Irrigation District, I started working extensively with UPI on different ways to use the two main products that the irrigation districts in the western United States purchase from it, which are Cascade and Teton. We worked with a couple other agencies or companies, including Alligare with its Chelated Copper and Magnacide. We routinely did miscellaneous research and trials, trying to find more effective ways to use aquatic chemicals. I got to know UPI's products and representatives well. A lot of those guys would come out and do research projects with us, which was helpful. I did that for going on 4 years. Within the past 6 months or so, there was a shift at UPI: The territory manager I'm taking over for, Joe Vassios, had the opportunity to move over to the ag side of the company. I had a couple of meetings with them. I like the company, I like what it's doing, and I have enjoyed working with the team, so it was a pretty easy switch to move over to UPI.
Joshua Dill: Tell us about your new role at UPI and the things you'll be working on there.
Cory Greer: My title is account manager for the Aquatics Division for the Southwest region. I'll be covering Arizona, California, Colorado, Nebraska, New Mexico, Nevada, Oklahoma, Utah, and part of Texas. We have a diverse and responsive team that we can help out in our areas.
It's wintertime, so irrigation districts in the western United States are shutting down their systems. There won't be any applications happening during the winter, so we spend most of the season going to conferences, weed schools, and pesticide-applicator training schools.
Joshua Dill: It sounds as though you have quite a range of experience, both in terms of geographical location and the kind of work you've done. What kind of advantage does that give you in your new position?
Cory Greer: One of the things that came up quite regularly during interviews and talks with UPI is that it is a company, especially the Aquatics Division, that's really
of the western United States, how irrigation companies work, and how irrigation districts run. I've also used UPI's products as an end user for 5 seasons, so I can tell customers that I've had my boots on the ground; I'm not just coming in as a salesperson.
Joshua Dill: What kind of clients will you have at UPI? Do you have ideas for new clients based on your experience?
Cory Greer: They are predominantly irrigation related. I thought Washington was a little stricter with its Department of Ecology guidelines, but working with irrigation districts within their current permits in all the states I mentioned will be interesting. They all have a different twist on how they use chemicals, discharge permits, and things like that.
Based on the increasing population of the western United States, there is going to be a water shortage that will require the building of new irrigation-storage and water-storage reservoirs. Lake, pond, and reservoir management will continue to increase in the western United States. I have noticed that a couple irrigation districts even in the Columbia Basin Project in Washington State have added irrigation-storage reservoirs for flow augmentation within their canal systems just to meet the National Marine Fisheries Service's requirements to keep water in the main water bodies for migratory steelhead and migratory salmon.
Joshua Dill: How does your background in environmental management intersect with your new work?
Cory Greer: I think it works really well. As an end user at the South Columbia Basin Irrigation District, I got to interact with quite a few different herbicide sales companies. One of the things I noticed is that not a lot of them paid attention to what each state requires for the use of those chemicals. In Washington State, all our water is returned to the main water body, so all our chemicals fall under our National Pollutant Discharge Permit. With my environmental science background, I'm very familiar with those documents and how they're developed, how environmental impact statements are developed, and how biological opinions are read. What I bring to UPI is the knowledge of how those processes function, their timing, when it would be appropriate to have industry input into those permits, how to aid irrigation districts with those permits, and how to help users make sure that their permits are written successfully.
Joshua Dill: What are the main challenges you expect to face at UPI?
Cory Greer: I'm covering a pretty large area. I like working face to face, so covering such a large area while making sure that all the end users within my territory feel like they can count on me at any time will be a challenge. I'm a technical person, so I want to have my feet on the ground. If there's a problem or a concern, or if a user would like assistance, I'd like to be there. Doing that with 9 states might be a bit tricky, but it's definitely my goal to be an on-the-ground technical representative and technical aid for all of my territory's end users.
Joshua Dill: What message do you have for our readers?
Cory Greer: The fact that I have been an end user of products from UPI and have used a ton of other products from other chemical supply companies means that I have had to deal with the same things as a lot of irrigation users. I've had to deal with EPA guidelines, including restrictions and discharge limits. It's important to me to get on the ground with all those users and work with them face to face to make them feel confident in what they're doing in the field. It will be important to me to make sure that I'm there as a technical rep and assistant for them.
You can contact Cory Greer at cory.greer@uniphos.com or (208)-407-7678. For more information about UPI, visit upi-usa.com.