Nustreem builds proven modular small hydro installations that are suitable for irrigation districts or other water conveyance operators. With thousands of hours of run time on six preproduction units, Nustreem has a proven design to meet the demands for modular and intelligent turbines. By applying the concept of power feedback to hydropower design, Nustreem has created a highly efficient system. Moreover, it can fit up to three units in a shipping container, so an entire hydropower site can be built with very little civil construction. 
In this interview, Nustreem General Manager Juliann Blanford tells Irrigation Leader about what makes Nustreem's technology novel and what the company can offer to irrigation districts. 
[siteorigin_widget class="SiteOrigin_Widget_Headline_Widget"][/siteorigin_widget]
Irrigation Leader: Please tell us about your background and how you came to be in your current position. 
Juliann Blanford: I have a finance background and am a certified public accountant. I started my career as an auditor at Ernst and Young. More recently, I was a financial controller at Froude Dynamometers. When I heard that Froude's corporate office was going to add Nustreem to our group of companies, I started learning about small hydro. I liked that small hydro technology is a simple, sensible solution to our renewable energy pursuits. I was excited by the opportunity to bring to market a proven and environmentally friendly energy technology. I applied to be Nustreem's general manager and started in January 2018. I love it. 
Irrigation Leader: How is Nustreem's technology different from other hydropower installations that readers may be familiar with? 
Juliann Blanford: Our hardware is modern, and we have full electronic controls capability, which provides a foundation for a variety of improvements. Our onsite performance is more efficient, and our equipment is simpler to maintain. We also have shorter lead times and faster installation times.
Irrigation Leader: Is your innovation both in the design of the turbine and the software that operates it? 
Juliann Blanford: Yes. Our innovation in the design of the turbine modernizes the classic Kaplan turbine. We took older technology and replaced it with current technology. Instead of hydraulics for actuation and weights for emergency shutdown, we use electronic motors and an automatic braking system. The result is a family of turbines, sized from 75 to 250 kilowatts (kW), with the lifetime reliability of a classic design and the rewards of modern technology. 
Our innovation in software is particularly exciting because it makes our machines perhaps the most efficient on the market. Our NuTech controller puts intelligence behind decisions about how to move water through the turbine. It is demonstrably better than other methods such as automating a cam curve. Our inventors were inspired by their knowledge of technology used in the aerospace industry, and this intelligence is what gives us our operational lift. 
Irrigation Leader: In one of your installations, would the entire flow of a river or canal be routed through the turbines? 
Juliann Blanford: In a run-of-river application, the hydropower site must leave some water for wildlife. In the case of irrigation districts, we must always maintain downstream flow in order to ensure the availability of water for the farmers. We use as much of the water as is available, but we must first uphold a river or canal's wider priorities. 
Irrigation Leader: Would you tell us about the modular design of your turbines and how that helps lower civil construction costs? 
Juliann Blanford: Yes; this is a gamechanger. Nustreem's modular approach to developing hydropower sites significantly reduces civil construction costs. That is key because civil construction costs often represent the largest part of costs for hydropower site development. 
Our turbines can be packaged inside a shipping container that arrives on site ready to be installed. By building a hydropower site with prepackaged turbines, you save on the construction costs you would have incurred by scheduling and transporting people and materials to do the same work on site. It makes sense and saves money to have as much of a site as you can built inside a manufacturing plant by highly qualified people working with regular quality checks. It is an amazing advancement in this space. 
Irrigation Leader: Would you tell us about the environmental effects of the product? 
Juliann Blanford: Small hydropower has a huge positive effect on our environment. Small hydro technology does not require a dam, deforestation, the use of rare earth minerals, or the production of carbon. It has nearly zero impact on wildlife, and the sites themselves are quite discreet and charming. 
Irrigation Leader: Where is the company active and who are its clients? 
Juliann Blanford: Nustreem is active globally. We have sold to classic hydropower owners and developers and will continue to do so while also responding to the interest we are seeing from other potential customers like irrigation districts, the mining industry, and native communities. 
Irrigation Leader: Would you tell us about some of your existing installations? 
Juliann Blanford: Yes, and I invite anyone who is interested to contact me to arrange a tour of our the turbines in person in Connecticut or virtually. Once people get on site, they can really see the robustness of our design. There are five 100 kW turbine units installed at the 0.5-megawatt run-of-river site 20 yards from our operations. These five units generate energy to power our building and the grid. There is another turbine unit installed in Massachusetts. That one was also installed at a run-of-river site and is paired with a 100 kW generator. 
Irrigation Leader: Why is Nustreem's technology appropriate for irrigation districts or irrigation water providers? How would a hydropower installation fit into their existing services?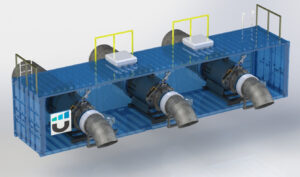 Juliann Blanford: The water flow rate and elevation changes present in irrigation district canals are ideal for Nustreem's technology. Elevation changes like canal drops offer ideal points for Nustreem turbines to be installed along the canal. Another great fit is the ability to share support services like operations and administration with established irrigation district personnel. Many irrigation districts have sites that are ideal for developing a profitable hydropower site. 
Irrigation Leader: Irrigation districts that are considering hydropower are focused on not slowing their water. Does your product avoid doing that? 
Juliann Blanford: Yes. With our irrigation district applications, our number 1 priority is to not interrupt the flow of the water. We know that farmers' crops are extremely valuable and that it is a big problem if they don't get their water. That will not happen with our turbine generator installations.
Irrigation Leader: What is your message to potential irrigation district clients? 
Juliann Blanford: With the renewable portfolio standards states have put into place, this is a great time to build a hydropower site! Irrigation districts have several attributes that make them highly suitable for hydropower site development. If you are interested in learning more about hydropower ownership, please reach out to us.