[siteorigin_widget class="SiteOrigin_Widget_Headline_Widget"][/siteorigin_widget]
Brian Betcher: General Manager (Retired), Maricopa-Stanfield Irrigation and Drainage District, Pinal County, Arizona
Being recently retired from many years of irrigation district management, my focus was somewhat different for this trip. I took more note of big-picture comparisons between what I saw in New Zealand and the water world of Arizona. Upon my return home, I reflected on the benefits of having served a district that benefited from having one of its main sources of water be a river system that has tremendous storage. That created wonderful operational reliability and resiliency—the system is still half full after a 25-year drought. System automation and state-of-the-art water measurement are already part of my professional experience, and as such, I was surprised that some things have not been done much yet in New Zealand. 
I was amazed that only 2 percent of the water supply is put to beneficial use. This may speak to a lack of system storage, which only now is gaining traction. There are areas that run short of water due to the run of the river or lack of operational storage and other controls to regulate supplies when they are needed. On the other hand, the dramatic elevation changes on the river systems provide energy-free pressurization for many on-farm systems, which is a huge benefit to farm economics. It appears to be better to be uphill on the system for reliability. The relationship between tribal water rights and interests and private-sector needs is similar to what we face in Arizona. There does seem to be a more holistic approach among stakeholders to sharing
common supplies. Observing some of the land use on those steep mountain slopes was enlightening as well. 
The building of relationships among the group on the tour, and with our hosts Mel Brooks and Hamish Howard, was extremely valuable. In the end, progress is made and great things are accomplished through work with good people. We visited a land with breathtaking scenery that is literally flowing with milk and honey (and wine and deer cheese—amazing!). The people of New Zealand are friendly, welcoming, funny, and engaging with a well-balanced pride in their country, products, and practices. The food was wonderful. The entire trip had a great balance of facts and fun! Going back is not an if but a when!
Dale Cramer: Director, Frenchman-Cambridge Irrigation District, Cambridge, Nebraska
One of the things I was interested in seeing prior to the trip was gravity-fed holding ponds, which are fed by irrigation schemes' canals and can be used to put water back into their canal systems later on. Seeing them gave me ideas for what we might be able to do at some point in our system. If we built something like that, we would have to do it a little differently due to our topography, but the result would be similar.
We stopped one day at Lincoln University. There was a discussion about trying to make plants produce some of their own nitrogen. I had heard about that in the past, but they told us that the concept is getting closer to reality. 
The people of New Zealand are environmentally conscious and are using a common-sense approach to achieve their goals. They are more concerned with managing their nitrogen and reducing leaching than about water conservation, as New Zealand has a good supply of water in most areas. 
It was interesting to observe how they produce their milk. Here in the United States, most dairies try to achieve maximum production to remain profitable. In New Zealand, they rotationally graze their cow herd on grass, and the cattle are not in confinement. Their rate of production is quite a bit lower than in the United States, but they have managed to lower their cost of production to a point at which they can be competitive. They lower their cost of production to economic levels, whereas in the United States we raise our production to higher levels to try to be profitable.
On any trip like this, the friendships that develop and the information that is exchanged are priceless. The participants came from a wide range of backgrounds. Another great trip with Water Strategies!
Craig Gyselinck: Environmental Assistant Manager, Quincy–Columbia Basin Irrigation District, Quincy, Washington
The spirt of New Zealanders is the result of a place that knows how to produce. They put trust in their land to make harvest each year and have innovated ways to share the abundance of their orchards, vineyards, dairies, and apiaries around the world. I was struck by a community that stood behind a vision of caring for its lands and to creating the potential to always do better. They embrace technology in their irrigation schemes and farms in ways that permit more efficient operations and cut waste—this is my biggest takeaway and one which I will bring back with me to the Quincy–Columbia Basin Irrigation District. 
Justin Harter: District Manager, Naches-Selah Irrigation District, Selah, Washington
Choosing the highlight of what I saw and experienced on the tour of New Zealand is a challenge. The landscape is only matched by the welcoming Kiwis who call it home. My expectations for the tour were quickly surpassed. We saw canals and agriculture, but we experienced so much more. I am interested in how people adapt to their environment. New Zealand is distinctive in that its recorded history dates back to when the first peoples, the Māori, arrived. The island's prehistory does not include human inhabitants. It is human nature to alter the ecosystems we live in to better serve our needs and desires. European colonization in recent centuries introduced plants and animal species that flourished in the microclimates across the islands to the detriment of indigenous species. New Zealand has committed to preserving the native species with a number of restoration efforts. The volcanoes that formed the islands were a familiar geologic landscape to me—many of the formations are similar to those of Washington State and Oregon. Seeing the introduced pine and fir trees I see daily in the Pacific Northwest had me forgetting I was on the other side of the world. With all the great memories of the tour, it's hard to beat the thrilling jet boat ride on the Waiau River.
Hamish Howard: Managing Director, Assura Software, New Zealand
I learned that a lot of the challenges faced by those in the American irrigated agriculture industry are similar to the ones faced in New Zealand: efficient delivery, consistent supply, and the growing pressures of environmental regulation and compliance. My hope is that the tour party learned a bit about how we're tackling those issues in New Zealand by engaging with end users and stakeholders—the public, the native Māori people, etc.—and how we're using technology, where appropriate, to drive accountability and efficiency.
What was pleasantly surprising for me was just how well everyone got along and how much fun everyone had. When you have a group as large as the one we had, it's tough to cater to everyone's interests, and inevitably there are a few personalities that are like oil and water. The participants all came with open minds and were willing to learn and share their ideas and experiences with us, which was incredibly valuable.
One of the coolest things about the trip actually took place after the tour had ended. One of the engineers on the tour had his girlfriend come over to join him, and they went and climbed Mount Aspiring together, and he proposed to her after they reached the summit. Fortunately, she said yes—otherwise it might have been a long and awkward descent. Congratulations, Craig!
Marilyn and Bill Kennedy: Bill—Natural Resource Resource Producer and Board Member, The Family Farm Alliance, Klamath County, Oregon, and Glenn County, California
What a fantastic tour of irrigated agriculture in New Zealand. We had a friendly and diversified group of producers and managers meeting informative and gracious hosts throughout the South Island. The tour ranged from large dairy producers to private vintners and milking deer herdsmen. Imagine drinking a fresh glass of deer milk! Of course, we drove right through some of the most amazing timber production and active forest management in this world. How refreshing! 
The underlying thought for me is how important it is to work with our communities and to diversify our production and interests. New Zealanders are embracing the needs of all and implementing solutions that are truly innovative.
Accepting background water conditions as pristine and addressing the issues of nitrate leaching makes for truly holistic resource management. New Zealand is a country with abundant water, yet producers still struggle for water supply, security, and reliability. The abandonment of the doctrine of prior appropriations points natural resource producers to on-farm water conservation and private off-stream storage. As in our western states, the result is a reduction in or elimination of return flows. Our western water law is vital as a basis for solutions. 
Shane M. Leonard: General Manager, Roosevelt Water Conservation District, Mesa, Arizona
First, I want to give Mel Brooks, Hamish Howard of Assura Software, Kris Polly, and the entire Water Strategies staff a tremendous thank you for the planning and effort it took to shepherd more than 30 people on a whirlwind tour. While there were many aspects of the tour I found exceedingly useful for my district, the most significant thing I took from the journey was the collective efforts of the water providers and their customers in resolving shared and public water issues like quality, quantity, and funding. I am certain that I have not visited a water managed area where everyone's collective efforts were as pronounced in solving the matters at hand as they were in New Zealand. I found the people of New Zealand to be gracious, accommodating, and engaged with each other and their surroundings. This was particularly apparent during our lunch with one of the indigenous Māori communities. In short, my expectations for the tour were far exceeded.
Darren McGregor: General Manager, North America, Rubicon Water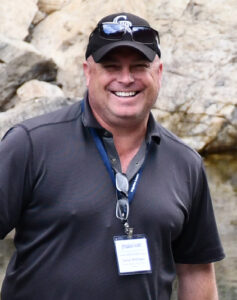 I was glad to be able to see the operations of MHV Water firsthand and take in how automation has improved deliveries, solved disputes, and maximized labor in the scheme. In the states, we have a variety of automation implementation levels—it's great to see where it can go given the right vision and execution. Thanks to Mel and Sam for walking us through their system!
Jason McShane: Engineering and Operations Manager, Kennewick Irrigation District, Kennewick, Washington
New Zealand's farmers and irrigation providers provide an example of excellent stewardship of the land and water resources needed for agricultural production. They are innovative in their thinking and execution of what needs to be done. I was particularly impressed with their understanding of the need to invest in infrastructure, examples of which are the Carew Ponds reservoir and Waimea Dam. The Carew project highlights an innovative way to provide storage reservoirs at a much lower cost than traditional dam construction.
Kirk Rathbun: Board President, Kennewick Irrigation District, Kennewick, Washington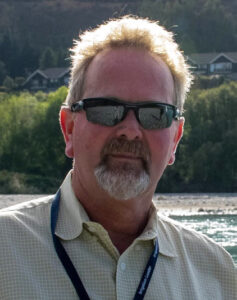 Water Strategies put together an amazing tour in New Zealand. It's hard to imagine it can top the New Zealand experience, but we are already looking forward to the next tour. The benefit I received from the tour was recognizing that even in New Zealand, where water appears abundant, they are building storage to alleviate times of shortage within their schemes. The managers in New Zealand are certainly thinking about the next generation and generations beyond. Witnessing the innovative solutions around water storage at MHV Water was the highlight for me. In the Yakima basin, we are dependent on full water supply each season. On-district storage for Kennewick Irrigation District has significant benefits for meeting current and future irrigation needs in the lower river. In New Zealand, they deliver partial irrigation supply, but they are focused on building a robust system to alleviate times where river supplies run short. I look forward to discussions with our partners in the Yakima basin on projects to benefit in-stream and out-of-stream flows. 
Phil Rigdon: Deputy Director, Yakama Nation Department of Natural Resources, Toppenish, Washington
The highlight of the trip for me was the privilege of participating in a cultural exchange between the local indigenous people of New Zealand at Arowhenua Marae. For me, as someone who comes from a Native American community, the welcoming ceremony was a true honor. In addition to this, it was wonderful to see the beauty of New Zealand, the innovation of their irrigation systems and the technology they use, the uniqueness of their fishing and salmon, and the charisma of the people. I will always remember the crazy jet boat ride and the time at the beach in Kaiteriteri. It was great to get to know the fascinating people on the tour, and I am thankful for this brilliant adventure. 
John Rylaarsdam: Director, Quincy–Columbia Basin Irrigation District, Quincy, Washington
I think the opportunity to spend time with people with similar problems but different solutions is invaluable. It's an opportunity to see a challenge turned into an advantage by someone with a different perspective. It's amazing to see how much water gets delivered in New Zealand with fewer resources. The new technology we were able to see in use, from both Rubicon and Assura, gave me new ideas. The Kiwis are great people and gracious hosts. I find the pragmatic view they have both of themselves and of the rest of the world refreshing. I also appreciated the opportunity to network with people from the United States. The presentation that Phil Rigdon and Tom Tebb gave was good example of this. I took a lot of pride in seeing what was able to be accomplished in our state by people with different ideas but common goals.
Julie and Dave Solem: Dave—General Manager, South Columbia Basin Irrigation District, Pasco, Washington
The 2020 Irrigation Leader trip to the South Island of New Zealand was an unforgettable experience. Our Kiwi guides, Mel Brooks and Hamish Howard, were gracious and entertaining. My thanks to them and to Kris Polly for putting together such an educational tour. We learned that although New Zealand has abundant water, harnessing peak river flows is necessary to advance the production of crops, promote water conservation, and improve water quality. Both off-stream storage and dam construction are critical to the future of New Zealand's agriculture. New Zealanders are forward thinking, evidence of which we saw and heard over and over with each group presentation and with each producer we met. The cultural influence of the Māori in the relationship of people to the land and water was evident. The tour group was great, and new friendships were formed. Traveling by bus from Christchurch to Nelson, we experienced the natural beauty of the country, the welcoming nature of the people, and amazing food. Overall, I found that our countries had many similarities in irrigation water management and that learning from one another is a time- and cost-efficient way to move our industry forward. I definitely recommend a trip like this to anyone in agriculture
Justin and Dawnie Stewart Dawnie—Director, Roosevelt Water Conservation District, Mesa, Arizona
It was an honor to be included in the Water Strategies trip to New Zealand! Kris and his team put together a tour that was not only enjoyable but gave us all a true background and understanding of New Zealand's culture and how water continues to play an important part in the making of its history. The water quantities are much greater in New Zealand than our water allocations here in the Roosevelt Water Conservation District. We were inspired by the care and protection of the water practiced by the schemes we visited. Some of those practices and technologies, such as the Rubicon gate system and the Assura software used at the MHV Water scheme, could easily be implemented here in the dry climate of Arizona. The New Zealand people were more than gracious and were quite willing to share their stories and practices openly. We look forward to opportunity of retuning the hospitality to our new Kiwi friends with a visit to the United States and hope to return across the pond to visit New Zealand again soon!
Steve and Joan Stockton: Steve—Senior Advisor, Water Strategies
We were impressed by all the insightful and experienced professionals on the New Zealand tour. The knowledge that was shared regarding irrigation schemes and the relevant questions that were asked provided insight for future planning and design, a focus on environmental issues, and hope for future generations. Mel Brooks helped us experience the New Zealand she loves. She provided an educational experience that was accompanied by fun adventures and new friendships.
Tom Tebb: Director, Office of Columbia River, Washington State Department of Ecology, Union Gap, Washington
After a 13-hour flight from San Francisco, I arrived in Auckland around 7:00 a.m. New Zealand time as the airport was just coming to life. To stretch my legs, I decided to walk from the international terminal to the domestic terminal for my flight to Christchurch. The sun was just beginning to rise and it was warm—about 80 degrees—so I had a nice, pleasant stroll with my suitcase and backpack. The people I met were warm, friendly, and helpful. After arriving in Christchurch, I had half a day to get settled in at my hotel for the night, near Hagley Park. I spent the afternoon exploring parts of the town and park. A visit to the museum and a short trip to a few nearby shops filled the rest of the day. Kris and his team were kind enough to invite me and others to an evening rugby match between the Crusaders and Highlanders, which was an incredible experience and fun to watch. The New Zealanders, or Kiwis, love this sport and are proud of their teams. Go, All Blacks! The next day, I traveled to Lincoln and made my way to the restaurant for dinner that evening. It was the kick-off event for the tour and Kris and his team introduced our Kiwi hosts, Mel Brooks and Hamish Howard, and the rest of the tour participants. All of us would form friendships, and we related to one another with incredible ease. Mel and Hamish made the tour fun and informative. They and Kris and the team from Water Strategies did a fantastic job of keeping us on schedule as we enjoyed the incredible scenery along the way. I learned a lot about the level of accuracy at which their water schemes are delivering water and the use of innovative technologies like state-of-the-art Rubicon gates and telemetry systems. I learned how their dairy industry used a smaller animal footprint (1,000 head) to better use their pasture lands and provide comfort for their animals, and I learned about a new culture, the Māori, whose traditions and ancestral culture are still practiced and respected, and whose rights and values are now being respected by local, regional, and national government bodies after a long period of neglect. The northern part of the South Island near Nelson was filled with rolling brown hills covered in vineyards and farms that would make Napa Valley jealous. The trip was truly an experience of a lifetime.
Daniel Tissel: Engineer, Kennewick Irrigation District, Kennewick, Washington
The stop on the tour that was the most interesting to me was the Carew Ponds. These are three large ponds covering about 370 acres within the MHV Water irrigation scheme (district). Due to their large size, the ponds provide significant storage that can be used in times of water shortage. In addition to the fact that the ponds are filled and emptied using gravity, it was interesting to hear that the very existence of the ponds helps conserve water during normal operation. Before the ponds existed, more water would be consumed when water rationing was anticipated, whereas after the ponds were constructed, consumers knew that there would be a reliable supply even during times of curtailment and did not unnecessarily use extra water beforehand. With regard to dairy farming, one item of interest was, well, the deer milking, but also how concerns over introducing nitrates into the groundwater played such a large role in the farming practices and production methods of the dairy industry.
Duane and Deb Vorderstrasse: Duane—Director, Frenchman-Cambridge Irrigation District, Cambridge, Nebraska
Deb and I really enjoyed the New Zealand trip. The country is beautiful and interesting. Our hosts were great. They did a wonderful job lining everything up for us to do. From the irrigation projects to the deer milking to the jet boat ride, it was all an entertaining and enjoyable experience.