From the world's first reversible electric-drive center pivot to the newest electronic swing arm used to improve precision irrigation on corners, Nebraska-based Reinke Manufacturing has been an irrigation innovator since 1954. In this interview, Reinke President Chris Roth tells Irrigation Leader about the company's proud history and its innovative new irrigation solutions. 
[siteorigin_widget class="SiteOrigin_Widget_Headline_Widget"][/siteorigin_widget]
Irrigation Leader: Please tell us about your background and how you came to be in your current position. 
Chris Roth: I was born and raised in Callaway, Nebraska, on the southern edge of the Sandhills. I come from a farming background. I got a degree in accounting at the University of Nebraska–Lincoln and went on to work at the Nebraska business unit of KPMG for 5 years. Reinke was one of my clients, so I got to know the company, the management, the manufacturing people, and the area. Deshler, where Reinke is based, is a small community, and it felt a lot like Callaway, where my wife and I grew up. I joined Reinke in 1996, and we moved to Deshler and have been here ever since. As president of the company, my role is to keep the organization moving forward strategically and effectively while making sure that we are competitive in the irrigation space. 
Irrigation Leader: Please tell us about Reinke as a company. 
Chris Roth: Established in 1954, Reinke has focused on quality, service, and innovation to make the lives of growers easier in more than 40 countries around the world. As the largest privately held maker of center-pivot and lateral-move irrigation systems, we've developed products to increase productivity for growers while providing labor savings and improved sustainability to help them conserve resources so they can grow more with less. Reinke has a network of dealers dedicated to helping our customers with their irrigation needs—dealers who are committed to working on everything from custom design and installation to making sure the irrigation systems they sell perform as expected, year after year. We understand how important qualified service technicians are to growers. Our dealers commit to having their employees participate in Reinke's extensive technical service training programs, allowing us to consistently build upon the level of service capabilities they provide. 
Irrigation Leader: How has Reinke improved its products in recent years? 
Chris Roth: A few years ago, we released our patent-pending electronic swing arm corner, which has won multiple awards. The product was designed to make irrigation more uniform and efficient, increasing yields while conserving water. A series of algorithms that work with GPS allows the swinging corner to know exactly where it is. To prevent under- or overwatering, valves turn on or off to make sure that water is applied uniformly. 
Irrigation Leader: Would you tell us about your new laser units?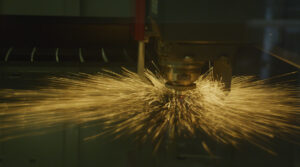 Chris Roth: The first pivots were made in two rooms in the original Reinke manufacturing building in 1967. Now, literally 10 feet away, we've got beautiful, brand-new lasers that are helping us serve the next generation of farmers. 
Most manufacturers are having issues trying to get steel into their facilities. We recently installed two large laser units with a tower that automatically feeds material into our lasers. It is programmed to know the size and the thickness of the steel that we need to manufacture at that point. This allows for much quicker setup and processing. If you're tight on inventory, you can do what you need and then move on to the next part that you need. Since it reduces setup time so much, we can make something out of 3/8‑inch material and then, within minutes, be working with ½‑inch material, if that's what the product is. 
The laser cutting process leaves no sharp edges, so you can run your bare hand across the end product. We don't have to do any smoothing—it's ready to go straight out. The entire process is very precise. 
We also invested in a nitrogen generator. Lasers need nitrogen to make their cuts, and this generator allows us to use naturally occurring nitrogen, so we are creating our own gas rather than being dependent on a supplier to bring us commercial gas. The device filters the air next to the laser, removes the nitrogen, and compresses it. Afterward, the nitrogen is released back into the air. It's an environmentally conscious process. 
Irrigation Leader: Would you tell us about your ReinCoat galvanizing process and how it differs from normal galvanizing dipping? 
Chris Roth: Sometimes, folks think galvanizing is a very industrial process, and it is. But in our buildings, we have a negative vacuum that we use as our pretreatment area. That is where all the acid used to prepare the product to be galvanized is located. We pull air from the atmosphere and push it across the pretreatment and acid tanks, both of which are inside a building. We then run the air through an air filtration system so that when it leaves the facility, it's as clean as when it came in. We are careful about our manufacturing process from an environmental sustainability standpoint. 
The other thing that sets us apart from a process standpoint is that we have thick concrete that is lined with an environmental barrier so that in the case of a catastrophic tank failure, we can capture and clean the contents and prevent them from getting into the soil or the water table. 
Irrigation Leader: Is that design standard, or is that something Reinke came up with? 
Chris Roth: We made an extra investment into the building that we use for the pretreatment acid area just to make sure that we were being smart and environmentally conscious about what we're putting into the water, soil, and air. 
Irrigation Leader: Tell us about the people who work at Reinke. 
Chris Roth: We're proud of our people. We have multiple multigenerational families working for us—spouses, fathers, mothers, sons, and daughters. We have people who have worked here for their entire careers. I think that is because we treat people with respect. They believe in our mission. We're working to solve large, global issues, like trying to feed billions of people while using less water. 
Irrigation Leader: What should every irrigating farmer know about Reinke? 
Chris Roth: We're constantly trying to think of ways to make life easier for farmers. We believe we make the world's finest irrigation systems. Our systems look a little different than the others, and that is by design. We manufacture stronger, lighter-weight machines with high-strength steel to reduce tracking in the field. When you're putting water out on the field, it gets a little bit muddy. We want to reduce the weight of the equipment so it performs well even in the toughest environments and to reduce rutting and soil compaction. Heavier equipment also puts a strain on the motors and gears, so making the equipment lighter helps it last longer. Another patent-pending product that we came out with a couple of years ago is a sleeve that sits inside the irrigation system bearing. Once our maintenance-free bearing is installed, you don't have to lubricate it anymore. Those are a few of the innovations that we've come up with just in the past few years to make life easier for farmers. 
Irrigation Leader: Would you discuss recent supply chain issues and what you are doing to get pivots out in the fields faster? 
Chris Roth: Besides the addition of the laser units, which will increase production in our Deshler facility, we've also expanded our distribution channels. In the United States, we have distribution centers in Georgia, Idaho, and Texas in addition to our Nebraska and Kansas manufacturing facilities. One of the primary reasons for that is to keep inventory closer to our farmers. If a customer in Georgia has a breakdown and we've got a product sitting in Georgia, they will get the product much faster than if we had to ship it from far away, especially with current trucking issues. Around the world, we've also built distribution centers in Argentina, Australia, China, Mexico, Romania, and South Africa. 
Irrigation Leader: Is there anything you'd like to add? 
Chris Roth: We're very active in our community. We're teaching students at the Nebraska College of Technical Agriculture how to service irrigation systems so they can go back and service small, rural communities. We have employees teaching welding at the local high school and coding for computer numerical control equipment at the junior high. We're also active with organizations like the Future Business Leaders of America, the Future Farmers of America, and 4‑H. We want to make sure that we're giving back to the kids as best we can.