Nebraska Farmer magazine has provided a forum for farmers to ask questions and share insight into their experiences since 1859—before Nebraska was even a state. In the 1980s, Nebraska Farmer was one of the founders of the Husker Harvest Days show in Grand Island, Nebraska, now the nation's biggest outdoor irrigation show.
Since 2015, Tyler Harris has been the editor of Nebraska Farmer. In this interview with Irrigation Leader Editor-in- Chief Kris Polly, he discusses the origins of Nebraska Farmer and how Husker Harvest Days has grown over the last three decades to become one of the ag world's indispensible trade shows.
[siteorigin_widget class="SiteOrigin_Widget_Headline_Widget"][/siteorigin_widget]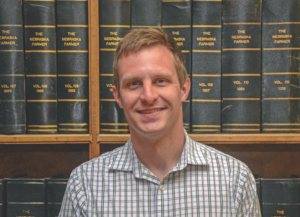 Kris Polly: Please tell us about your background.
Tyler Harris: I grew up on a farm in southwest Iowa, in Union County. If you take Highway 34 out of Lincoln and drive about 2 hours and 45 minutes east, you will come up on the outskirts of my home place along the highway. I took a different approach to agricultural journalism. I went to the University of Iowa to pursue a journalism degree. As I was covering local politics and the crime beat, I found myself pulling more toward covering rural and agricultural issues. My mentor in college really encouraged me to pursue that route further. In my senior year, I worked for a small-town paper south of Iowa City covering agriculture, and I thought to myself, "Why can't I do this full time?" Before I graduated from the University of Iowa in spring 2012, I interviewed for an internship with Wallaces Farmer, which I grew up with—it is one of the biggest ag publications in the country. They were looking for an intern because Iowa was hosting the Farm Progress Show that year. The summer that I was the intern, I was able to cover a wide variety of ag-related issues, including my first Husker Harvest Days. They hired me on full time after the internship. Eventually, in October 2012, I moved down to Kansas City, where I lived and worked for about 2½ years covering agriculture in Missouri, Kansas, Nebraska, and Iowa.
While I was out in Kansas covering the Great Plains and irrigation in the western reaches of the state, I fell in love with it. I really enjoyed getting to be in a totally different environment from what I grew up in. Kansas is a lot like Nebraska in that you can drive from east to west and see a massive change in elevation, rainfall, and even topography. I really gravitated toward that.
his place at Nebraska Farmer, and I have been here ever since.
Kris Polly: Would you please tell our readers about Nebraska Farmer magazine? Tyler Harris: Our first issue came out in 1859, 8 years before Nebraska was even a state. I have looked back at some of our issues from that early time and into the 1870s. Robert Furnas, who went on to be the second governor of Nebraska, founded the magazine. They handed out the first issues on the streets of Nebraska City and Brownville in 1859, with the intent of giving the producers in the Nebraska Territory a voice and a forum to share their experiences, pose questions, and figure out what they would be able to accomplish. I found that interesting. The issues were all content and were around 16 pages long.
It was a huge territory at the time, and there was only a population of about 25,000 people. Back then, Nebraska City was the most populated settlement in the territory, with around 1,900 people. That is where the agricultural hotbed was; things spread out from there. Furnas's idea was to take a publication from this agricultural epicenter and turn it into a forum for people to discuss their experiences and promote agriculture in the region.
It was probably pretty obvious that Nebraska was going to become an agricultural powerhouse, but I don't think everyone saw the irrigation potential early on. In some of the early issues, you see a perception that rain follows the plow. The 1880s in particular was a period of abundant rainfall. I think the first irrigation in the area was done in the 1860s by a farmer named John Burke around North Platte. He used irrigation to grow vegetables and corn for the soldiers at Fort McPherson. As time went on, irrigation really started to catch on. That is something that was covered in the magazine.
Today, we still welcome editorial letters from farmers, and we try to run a monthly comment column where we get an alumnus of the Nebraska Leadership Education/Action Development (LEAD) program to comment on a development in the ag industry. A lot of our content is generated by Curt Arens, the regional field editor, and me. Once in a while, we will pick up articles from extension educators or commission an article on a timely topic. In 1956, we started to publish an annual irrigation issue every March, which continued until the mid-1980s. Back in the 1950s, gated-pipe systems and siphon tubes were pretty prominent throughout the state. As time went on, center pivots and sprinkler systems caught on. In the 1970s, when we had the first Husker Harvest Days, there was only one gravity-irrigation system at the show; it was mostly center pivots and lateral moves. Around that time, we were promoting Husker Harvest Days, and there was a big focus in the magazine on the advantages for farmers of irrigation scheduling with pivots and scheduling devices.
Kris Polly: Husker Harvest Days began in 1978. Can you talk about the origins of the event and how the magazine has promoted it?
Tyler Harris: The idea behind Husker Harvest Days was to have a show where farmers and ranchers could witness the latest technology in action. The group that founded it included the Grand Island Chamber of Commerce, the Agricultural Institute of Nebraska, private industry groups, and Nebraska Farmer. The creators of the event were heavily influenced by the Farm Progress Show, which is one of the biggest farm shows in the United States. Today, Husker Harvest Days is the largest outdoor irrigation farm show in the United States. Every year, Nebraska Farmer publishes a Husker Harvest Days show program.
The Husker Harvest Days show site was in preparation for about a year before the first show. Originally the Cornhusker Ammunition Plant, the site had previously been leased by the U.S. Army to a cattle producer. Crews broke ground in 1977, and the first show got going in 1978.
Looking back at pictures of the first show, you can see how different things were from today. As time went on, the irrigation systems changed. Even in the mid-1980s, we still had a gated-pipe system, but they were doing things with it at that point. There were about 10 irrigation systems, and 9 of them were sprinkler. There was one gated-pipe system that they called a cablegation system, which was a new twist on automated gated-pipe irrigation. It had a plug with an attached cable that was put into the pipeline and forced down the pipeline with water. The other end of the cable was hooked to a braking wheel that controlled its speed. All the gates on the pipeline would be open, but water would only come out of the 30 to 40 gates directly behind the plug. With that, they were still able to control the amount of water that was going on different soil types, almost like an early version of speed control.
Kris Polly: How many people came to the first Husker Harvest Days?
Tyler Harris: I have heard a bunch of different numbers from people who were involved in the early stages of the show, but finding accurate numbers has been really hard. There were a lot of vendors there—over 200, including those in the Diversified Industries Tent. Some vendors
who were at the original show are still coming today. Usually, we have around 600 vendors in any given year. Today, there are typically around 100,000 people in attendance every year.
What is really interesting is that during the early years of the show, if we needed a piece of equipment to get the show off the ground, vendors would provide equipment in exchange for lot space or advertising space. That happened even in the early days of Nebraska Farmer—equipment companies would provide equipment in exchange for advertising space. The same thing happened at the beginnings of Husker Harvest Days. That strategy might not work now—everything is very well accounted for. Back then, that was part of the mentality; it was a handshake deal.
Kris Polly: Did the magazine also provide advertising for people who were going to participate in the show? Tyler Harris: Yes, that is how it usually works. It works as value added to advertising—if vendors spend a certain dollar amount, they qualify for free lot space. Of course, vendors can also buy lot space. In the beginning, vendors could only get lot space through trade advertising.
Kris Polly: Would you please talk about how the infrastructure of the show has changed?
Tyler Harris: Definitely. My first time at the Husker Harvest Days was in 2012. I remember that being one of the few years when part of the show was canceled. It was a dry year, and it was very windy at the show. There was a ton of dust stirring up. In 2014, we had really excessive rainfall. I can remember seeing pickups coming out of the parking lot that were so heavily caked in mud that you could not tell what color they were. In 2015, we put some gravel lanes in the parking lot, which was a big help. We have not had a major rain event at the show since 2014, but we would like to be prepared. If you ask people about their Husker Harvest Days memories, they will always tell you about how the equipment has changed over the years, particularly in size and in the technology used on board—but also which years we had bad weather. Hopefully, when we have infrastructure improvements, it will reduce the likelihood that we will have to cancel a day of the show.
This last year, right around the time that the 40th anniversary program came out, we announced $7.5 million in renovations to the show site. The Grand Island community and private interests stepped up in a big way to help contribute. That includes 5½ miles of newly paved streets, concrete about 7 inches deep, new electrical wiring, and an upgraded storm water–retention pond. The operations manager, Roger Luebbe, worked very hard to almost make water flow uphill for all those years. There used to be a crown in the middle of those streets, and the water would flow off to the side. There were some years when it was not a problem, but in some years, like 2014, we had to use little bridges to get into the lots. Now, that is not
a problem anymore; we have these newly paved streets with an inverted crown, and 16 feet of grade change for drainage. The new system could handle a 4-inch rainfall. Kris Polly: What is your favorite part of Husker Harvest Days?
Tyler Harris: One of my favorite parts of the show is getting to see all the new irrigation tech. That is one of the reasons I love working with Nebraska agriculture so much. In 2013, we put in the first subsurface drip irrigation system. That year, coming off the 2012 drought, there was a huge emphasis on drip irrigation. Whether that is economically feasible for farmers is up to them. That was one of the first big memorable things that year: visiting with farmers who had installed a drip-irrigation system on their farms and then visiting with the vendors about what they were doing to expand their presence in the Great Plains region. At that point, drip irrigation was only prominent in California and on higher-value crops. Nebraska is one of the few states west of the Missouri River that has seen an increase of irrigated acres in the last 5–10 years. A lot of the expansion of irrigated acres has been in the eastern and southeastern states.
Irrigation is a fascinating thing to work with. It's been true historically, and it is still true today: Irrigation is one of the best ways to improve yields on your land.
Kris Polly: What should our readers know about Husker Harvest Days?
Tyler Harris: My message would be that it is a learning experience. I try to learn about new things every year when I go. It is always great to go out and see the iron in the field; that is what everyone loves and it is really fun to see. My favorite thing, which I hope other people enjoy as well, is getting to visit with some of the tech companies, whether it is a new company or an older company that is putting a new twist on some aspect of technology. In Nebraska, there has been a pretty big push to take a checkbook-math approach to measuring the inputs and outputs of water in a given watershed, and the show highlights some of the tools that help do that. That also translates to the education side. People are learning about new ways to make decisions on the farm. There are a number of organizations that will provide an education opportunity to anyone visiting their booth and to anyone who sees a presentation at the hospitality booth. There is always an opportunity to see the latest tech and learn something new.
Tyler Harris can be contacted at Tyler.Harris@farmprogress.com