At the University of California, Davis (UC Davis), and the University of California Cooperative Extension, researchers help growers adopt advanced water management solutions in the face of recurring drought and dwindling water supplies. In this interview, Irrigation Leader speaks with Daniele Zaccaria, an associate professor at UC Davis and an agricultural water management specialist at the University of California Cooperative Extension, about how his work helps growers, state agencies, and regulators. 
[siteorigin_widget class="SiteOrigin_Widget_Headline_Widget"][/siteorigin_widget]
Irrigation Leader: Please tell us about your background and how you came to be in your current position. 
Scott Aspenlieder: I grew up in Culbertson, a town on the Missouri River in northeastern Montana. I went to school at Montana State University in Bozeman and got a degree in bioresource engineering, a subdiscipline of civil engineering with a focus on water and water resources. Early in my career, I interned for the U.S. Department of Agriculture and the Bureau of Indian Affairs on irrigation facilities in northeastern Montana. I spent 4 years working on the Fort Peck Irrigation Project, and after college, I went to work for a private engineering firm. I made my way to Helena, and in 2013, my partner Craig Dalton and I decided to relocate to Billings to start up our company, Performance Engineering. I've been working in irrigation for the better part of 20 years now. 
Irrigation Leader: Please tell us about Performance Engineering and the types of work it specializes in. 
Scott Aspenlieder: We are civil engineers and surveyors who focus on water-resource and irrigation engineering. That's one of our key market segments. We also do traditional infrastructure and land-use work for cities and counties and work in the renewable energy field with solar and wind. We work in three or four market sectors, but our company was founded on water resource and irrigation engineering. 
Irrigation Leader: You are also the president of MWRA. Please tell us about the organization.
Scott Aspenlieder: MWRA's members are irrigation districts and water right holders around the state of Montana. It also includes entities like NorthWestern Energy, which has dams and hydropower facilities, and associate members, such as engineering consultants and attorneys who work with irrigation and irrigated ag around the state. Our focus is on ensuring that water rights are protected and honored in the state of Montana. We help ensure that irrigated ag is not forgotten and that it is protected as we continue to see a push for legislation that would affect agriculture and water rights and resources.
Irrigation Leader: How important is irrigation in Montana?
Scott Aspenlieder: Agriculture is still the number 1 economic sector in Montana, and irrigated ag makes up a significant portion of that. Here in Yellowstone County, one report said that the Huntley Project Irrigation District, which covers only 30,000 acres, contributes $50 million to the local economy every year. If you extrapolate from that, considering all the irrigated ag acres across the state of Montana, you can tell that irrigation has a tremendous effect on our state and on our regional economies, especially the rural economies east of the Continental Divide.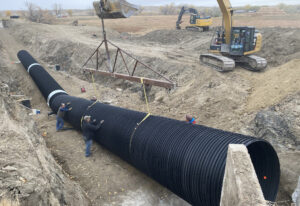 Irrigation Leader: Would you tell us about water rights and their importance to your members?
Scott Aspenlieder: From a water rights perspective, we are seeing continual pressures related to the development and the growth of our communities and our state. Montana has a long and storied history in senior water rights and senior water rights law precedents. For the most part, Montana has been good about maintaining that history and protecting agriculture as development around our large municipal areas continues. Water rights are a different animal in places like Culbertson, in eastern Montana, where I grew up, than in Bozeman, in the Gallatin Valley. Culbertson, a town of 800 people, is not seeing the same explosive growth as is Bozeman. A one-size-fits-all model does not work in this state because it is so diverse and has such large urban and rural areas. It takes a wide swath of people with diverse backgrounds to make sure that we're coming at these issues from all perspectives. I think that's the big benefit that MWRA brings to the table—when the administration or the legislature moves on water rights, we make sure that we're representing all sides. I think we do a pretty good job of ensuring that all our members are represented and that their opinions and viewpoints make it to the forefront of those conversations.
Irrigation Leader: What is your message to your state legislature and your congressional delegation regarding irrigation?
Scott Aspenlieder: In the state of Montana, we do a lot to invest in water, sewer, and bridge infrastructure in our communities and in our counties, but what we have not done is invest in the infrastructure for irrigated ag. We had not invested heavily in irrigated ag infrastructure at the state level since the 1980s until Governor Gianforte did so with American Rescue Plan Act (ARPA) funding. With the ARPA funding that arrived in 2021, the governor's office, the legislators, and the Montana Department of Natural Resources and Conservation decided to set aside $10 million for irrigated ag infrastructure. That was the first major investment and the first indication of a shift in policy and approach that we've ever really had in the state of Montana as it relates to irrigated ag infrastructure. MWRA worked incredibly hard to facilitate that. Our success has been a huge victory for irrigated ag and the agricultural industry in Montana. On a state level, we hope that that level of investment continues during the 2023 legislative session. 
On the national level, bigger issues around investments in infrastructure revolve around the Milk River Project. Investment is needed to improve, upgrade, and rehabilitate the project's infrastructure, which is falling apart from St. Mary all the way to Glasgow, where it dumps water back into the Missouri River. We're reviewing how the Bureau of Reclamation funds major infrastructure projects. Right now, the bulk of the cost lands on the shoulders of irrigators. Reclamation does the best that it can, but it has historically been underfunded. We would like our congressional delegation to continue to push for funding allocations to fix major things like the St. Mary diversion or the Fresno Dam. The catastrophes that happened in the Midwest could happen here in Montana, too, but we don't have the resources to take on projects of that size. 
Irrigation Leader: Is there anything you would like to add? 
Scott Aspenlieder: I would encourage people to reach out to MWRA and see how they can become members. You don't have to be an irrigator, a consultant, or an engineering firm. Pipe suppliers, contractors, and other folks can become members, too. Representing more people and a more diverse range of industries helps us convey the message to our state legislators and our congressional delegation that irrigated ag affects people beyond the farmer cutting hay and the guy setting pipe to get ready to irrigate. It touches many more people in our economy and our industry. 
Scott Aspenlieder is a cofounder and principal of Performance Engineering and the president of the Montana Water Resources Association. He can be contacted at scott@performance-ec.com or (406) 384‑0080.