The One World One Water (OWOW) Center was created at Metropolitan State University of Denver (MSU Denver) in Colorado to offer classes on water law, water history, global water concerns, and other water-related issues to university students who have a passion for water. It soon became clear that many water industry professionals were also interested in these classes. In response, the OWOW Center established a self-paced online certificate course open to professionals from across the nation. In this interview, OWOW Center Codirector Tom Cech tells us about the center's mission, its in-person and online courses, and how it is helping educate a wide range of people about water. 
[siteorigin_widget class="SiteOrigin_Widget_Headline_Widget"][/siteorigin_widget]
Irrigation Leader: Please tell us about your background and how you came to be in your current position. 
Tom Cech: I grew up on a nonirrigated farm near Clarkson, Nebraska, and then attended Kearney State College. I taught high school math for a few years in Wilber, Nebraska; then moved to Salt Lake City to work at a consulting firm; and then went back to Nebraska to work on a master's degree in community and regional planning at the University of Nebraska–Lincoln. I was then hired by the Central Colorado Water Conservancy District (CCWCD), a three-county organization along the Front Range of Colorado. We worked with groundwater users, irrigators, municipalities, and surface water users and were immersed in surface and groundwater law in Colorado. I worked there for about 30 years as the district manager. We also lobbied at the state and federal levels. We'd go to Washington, DC, a couple of times a year to lobby on various water issues, and with federal funds, we developed some of the earliest nonmunicipal groundwater quality programs along the Front Range. We were also one of the first in the country to develop water education materials for students from kindergarten through 12th grade. The U.S. Environmental Protection Agency awarded us a variety of grants to work with the University of Northern Colorado to develop the K–12 water curriculum.
Concurrently, I taught evening undergraduate- and graduate-level water resources classes at the University of Northern Colorado in Greeley as an adjunct and an undergraduate-level course at Colorado State University in Fort Collins as an adjunct. Interestingly, at the time, there were no basic water textbooks for university students that covered basic water issues such as water and the environment, water law, water policy, water politics, and water resource policy issues. I was fortunate enough to work with the publishing company John Wiley & Sons of New York to author a water resources textbook titled Principles of Water Resources. We finished the fourth edition last year. I also worked with Cambridge University Press and Dr. Karrie Pennington to develop a water resources textbook that focuses more on the environmental aspects of water worldwide. Both the Wiley and Cambridge textbooks are used at universities around the world and have been translated into Arabic in Saudi Arabia and Portuguese in Brazil. I have lots of water pen pals around the world because of these books. Andy Jones, a colleague and water attorney, and I wrote Colorado Water Law for Non-Lawyers a few years back and published it with the University Press of Colorado. That book has been popular and is used in classrooms and libraries around the world. 
I retired in 2011 and then started an encore career with MSU Denver to help create the OWOW Center. The university received a grant of $1 million over 5 years to create a water curriculum for any academic major at the university and to promote water awareness and stewardship. It was one of the first centers of its kind in the world at the time of its establishment. The OWOW Center supports an academic minor and certificate in water resources for all students. Our students include individuals who are majoring in education, English, engineering, environmental science, mathematics, theater, and many other fields of study, since the topic of water is of great interest to many. These students are interested in learning about water in their community, in Colorado, in the West, and around the world. Most MSU Denver students are older students, with an average age of 26; most have families; and most have part-time jobs. 
Irrigation Leader: At the CCWCD, were you a traditional irrigation district manager with personnel who helped deliver water? 
Tom Cech: We were a traditional water conservancy district, which is a bit different from an irrigation district. We were actively involved in augmenting irrigation wells. If anyone had an alluvial well that was drilled in the last 100 years or so, they had to acquire surface water so that they didn't injure the senior water rights downstream. We had a portfolio of surface water that we actively monitored and released to the South Platte River to protect those senior water rights and allow our junior well owners to pump out of priority. We had a staff of about 15, including office and field staff, telemetry technicians, water laboratory staff, and education personnel. 
Irrigation Leader: Please tell us about the OWOW Center.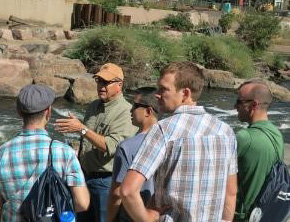 Tom Cech: The OWOW Center started at MSU Denver in 2011 and has three main goals. The first is to create a water studies minor and a certificate that can be pursued by undergraduate students in any academic major. The second is to create water stewards on and beyond campus. That outreach program involves conferences, seminars, and field trips for students. The third is to provide experiential opportunities for students that will help them find internships and ultimately jobs in water-related fields. We've had about 80 graduates since we started; now, they are working all over the world. One graduate is in Seattle, working as a water conservation specialist, and another is in Sweden, working on water issues with the European Union. Some go on to graduate school, while others work at local water engineering firms or other agencies in Colorado. 
However, we kept attracting the interest of people who were not students but wanted to take the water classes because they were interested in the topic and perhaps worked at a water agency. They were looking for a way to take these courses without sitting in a classroom with younger students. We worked with Terry Bower and her Innovative and Lifelong Learning program to create an online water studies certificate program that consists of the three core water courses offered on campus for the water studies minor and certificate. In 2018, we launched the online program for non-degree-seeking students. We've had people from all over Colorado and the United States sign up for the classes. 
Irrigation Leader: Who is interested in these water courses? 
Tom Cech: I believe there are three main groups of people who want to take these classes: water industry staff, water industry board members, and the general public. The Special Districts Association of Colorado has been my template. It hosts an annual conference for the board members of special districts. Around 1,000 board and staff members attend and take part in sessions for fire department, parks and recreation, and water agency staff and board members. There are sessions on how to follow Robert's Rules of Order, how to decipher a budget, how to lobby effectively at the state and federal levels, and so on. While the focuses of board members vary by organization, some of their needs overlap. The market for online classes for board members is untapped and presents an opportunity, not just for MSU Denver but for organizations around the country that want to create goodwill, public buy-in, and support. The board members who take the classes often encourage water agency managers to allow staff to take them as well. 
Irrigation Leader: Do you think the certificate program would be helpful to irrigation district managers with personnel and training needs? 
Tom Cech: Absolutely. One of my challenges and frustrations when I was the CCWCD manager was finding appropriate training opportunities for staff. One time, I sent staff to a water law conference taught by a water lawyer with an audience made up of water engineers and water attorneys. The topic was just too advanced for someone who wanted to begin with the basics of Colorado water law. The conference delved into particular water court cases at a far-too-intricate level of detail. The same problem arises with many opportunities to learn about water history: how irrigation systems came to be, who was involved in creating them, and the challenges of keeping them running today. Too often, seminars on these topics are geared toward water attorneys and engineers, not less-experienced staff. The reason I'm excited about these online water classes at MSU Denver is that you don't have to spend a ton of money on travel or on a hotel room. Our self-paced online courses are taught by highly competent faculty who love to teach about water resources and whom you can ask questions. 
Irrigation Leader: Would you and your colleagues at MSU Denver be open to reaching out to irrigation districts regarding possible collaboration on training topics and education ideas? 
Tom Cech: Yes, we definitely want to do that. The challenge and opportunity will be connecting our MSU Denver faculty with the new water-related topics that are requested by water agencies. We need to connect faculty who can use their specific expertise in the essential areas of training. The challenge in academia, I've learned, is connecting appropriate faculty members with the off-campus water community. Online courses seem to be the perfect solution. 
Irrigation Leader: Is there anything else you'd like to add? 
Tom Cech: It's beneficial for the entire staff of a water agency to know the basics of water law; water history; and the issues related to local, national, and global water concerns. These are really important topics for every staff member, including front-desk staff, engineers, and field personnel. Members of the public may start asking about a particular local water issue, and it's good public relations for water agency staff to know some of the basics of the water situation in their area and beyond. 
Tom Cech is one of the codirectors of the One World One Water Center at the Metropolitan State University of Denver. He can be contacted at tcech@msudenver.edu.